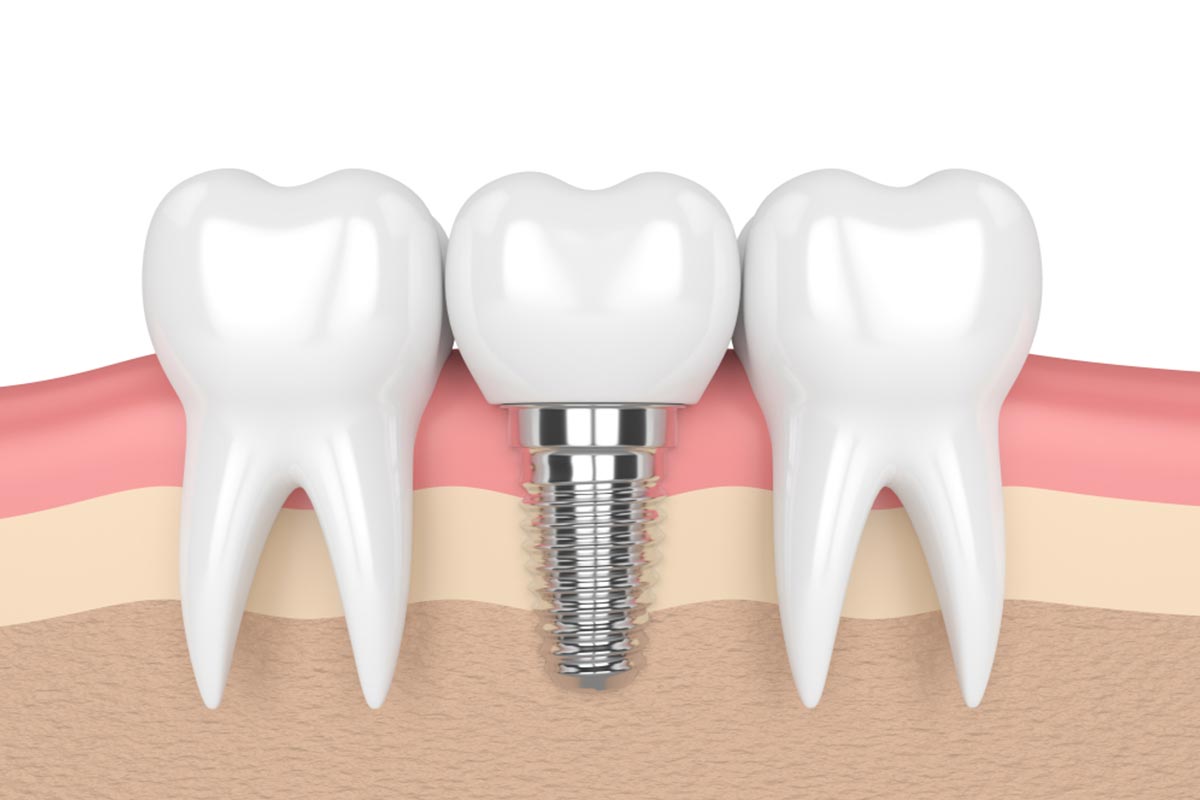 If you're missing one or more teeth, then you might be considering dental implants. This is an excellent option for long-term tooth replacement, as modern dental implants look and feel like natural teeth and stay permanently in place. But how long do dental implants last? 
Dental implants are designed to last a lifetime. If the implants are placed by a qualified prosthodontist, dental implants very rarely fail or malfunction. However, there are some factors that can contribute to an implant failing or a crown needing to be replaced over time.


What Are Dental Implants?
Dental implants are structures that replace the root of a tooth. They are surgically implanted into your jawbone to provide a strong base for a crown, which is a prosthetic tooth that looks and feels like a natural tooth.
There are three main parts to a dental implant. The actual implant is a titanium rod that is implanted into the jawbone. The abutment is a piece that is attached to the rod and connects to the crown. The crown is a prosthetic tooth that functions just like a normal tooth would.
Dental implants are permanent because they fuse to the jawbone in a process called osseointegration. This also helps to prevent bone loss in the jaw. A specially trained dental surgeon will know exactly how to place the implants so that they fuse securely and provide a permanent replacement for missing teeth.
The Benefits of Dental Implants
There are many reasons people choose dental implants over other forms of tooth replacement. Here are just a few of the advantages of dental implants: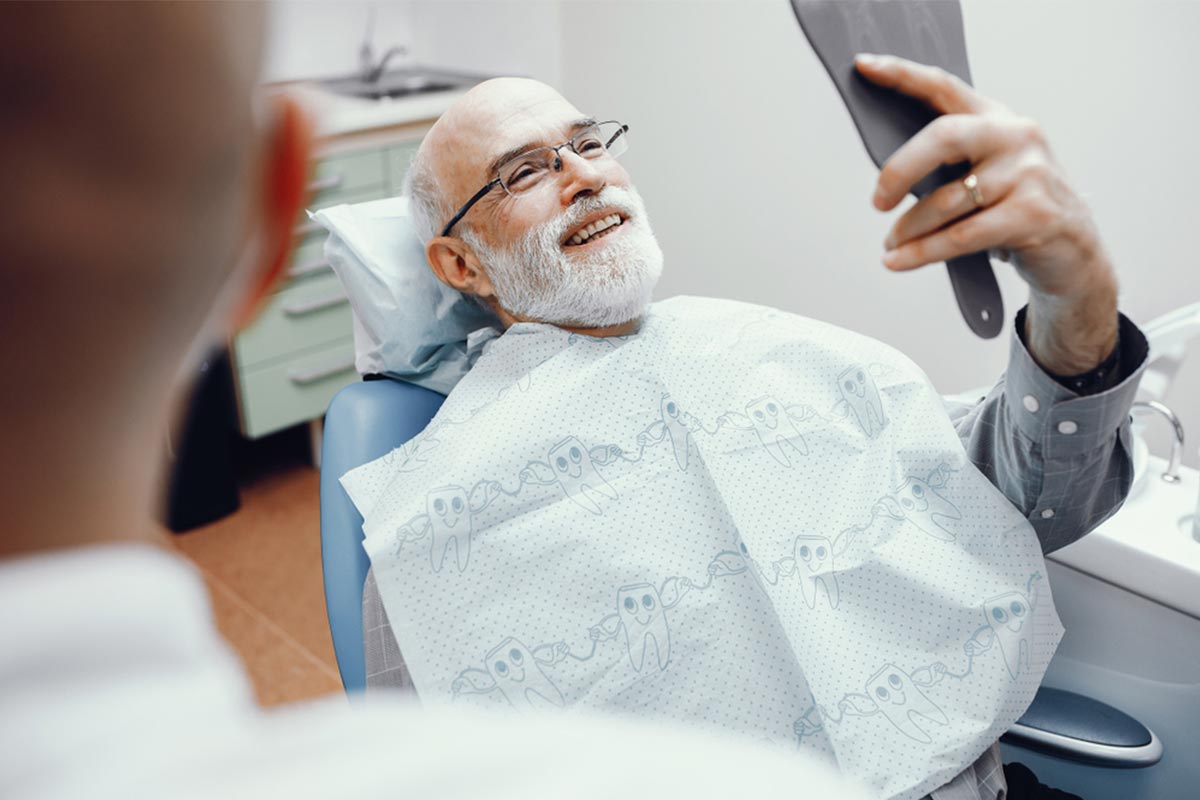 Safe and effective procedure
Crowns look, feel, and function like normal teeth
Option of permanent crowns or removable implant dentures
Long-lasting
Makes eating and speaking easier
Improved facial appearance
Help prevent bone loss
Increased confidence
Require the same maintenance as regular teeth
How Long Do Dental Implants Last?
In most cases, dental implants are permanent. However, a crown may need to be replaced after some time due to wear. Although it is very rare for a dental implant to fail, some factors could cause implant failure.
Your dental surgeon will be able to assess you and determine whether you are an ideal candidate for dental implants. This will likely start with a consultation where they will ask you about your medical history and oral health. Your surgeon will also examine your teeth and gums.
Provided your implants are well-placed by a professional prosthodontist and you take good care of them, your implants should last for decades. Proper care includes brushing, flossing, and visiting your dentist for regular check-ups and cleanings.


What Could Cause a Dental Implant to Fail?
Modern technology has advanced to the point where dental implants are safe, effective, and very rarely fail. However, there are some cases where an implant may be rejected or function improperly. These are a few things that can contribute to implant failure:
Medical Conditions
Certain medical conditions can affect the way the implants fuse and heal. These include blood disorders, osteoporosis, diabetes, and cardiovascular disorders. It is important to tell your dental surgeon about any pre-existing medical conditions you may have during your consultation.
Medications
Just as medical conditions can affect implants, so can certain medications and treatments. For example, blood thinners may prolong or disrupt the healing process and radiation therapy can affect the fusing process. Speak with your dental surgeon to see if your medications will interfere with the procedure.
Tooth Decay & Gum Disease
If you are currently experiencing tooth decay or gum disease, those conditions will have to be treated before you can receive implants. Ideally, you want your oral health to be at its best so that the implants will be successful and heal properly.
Not Enough Bone
Dental implants need a solid foundation to securely fuse with your jawbone. In some cases, there may not be enough bone to anchor the implant in place. Your dental surgeon will be able to assess whether your jawbone is sufficient enough for implants or whether you need a bone graft prior to the procedure.
Smoking
Smokers have lower success rates with dental implants than non-smokers. This is because smoking prevents blood from flowing properly, which can affect the area around the implant. Some smokers find that their implants don't fuse properly or the healing process takes much longer than normal.
Improper Care
Dental implants need the same level of care as regular teeth. This includes brushing, flossing, and regular cleanings. If plaque levels build up, it can lead to a condition called peri-implantitis. This can cause damage to your gums and implants.
Teeth Grinding
Teeth grinding and clenching puts a great deal of wear and tear on your teeth. This pressure can cause your crowns to crack or become damaged. A qualified dentist should be able to determine if you have a teeth-grinding issue and advise you accordingly.
Advanced Age
While dental implants are a great tooth replacement solution for people of all ages, elderly people may experience complications. This is often because of decreased bone density and pre-existing medical conditions that may affect the fusing and healing of the implants.
An Unqualified or Inexperienced Dental Surgeon
Finding the right dental professional is the key to preventing implant failure. An inexperienced dental surgeon may place the implant incorrectly, use inferior materials, or cause damage to the bone or tissue during the procedure. Be sure to look for a highly qualified professional who has experience with dental implants.
What Are the Symptoms of a Failed Implant?
There are a few signs that could indicate a dental implant is failing. These include pain in the area around the implant or any redness, bleeding, or swelling. In addition, a dental implant that moves has most likely not fused properly to the jawbone.
If you notice any of these symptoms, it is important to contact your prosthodontist as soon as possible. They may be able to fix the problem before it gets out of hand. In extreme cases, they may have to replace the implant. Fortunately, this is extremely rare.
How Can I Ensure My Dental Implants Last as Long as Possible?
The first step to making sure you get long-lasting dental implants is to find a qualified and experienced dental surgeon or prosthodontist. Look for a professional who has proper training from established institutions and years of experience performing the procedure.
The second most important step is good oral hygiene and care. Dental implants need to be treated just like regular teeth with proper brushing, flossing, and check-ups with a dentist. Try to avoid foods that are overly sugary, hard, or sticky. Follow all of your provider's instructions for caring for your implants.
FAQs
What happens during the dental implant procedure?
Your dental surgery will start with local anesthesia to numb the area where the implant will be placed. Then, your dental surgeon will make a small incision in your gum and drill a small hole in your jawbone. The implant will be placed securely into the hole. A temporary crown will be placed while the implant heals and the permanent crown is secured. 
How long is the recovery period?
You may feel some soreness and bruising immediately after your dental implant procedure. However, this usually goes away after a few days. It typically takes a few months for the implants to fuse to the bone. Once this is complete, your dental surgeon can attach the final crown.
How many years can I expect my dental implants to last?
Properly placed dental implants that are well-maintained can last for 25 years or more. The implant fuses to your bone, so it acts as a permanent root or base for a prosthetic tooth. However, your crowns may need to be replaced after some time due to wear.
How much do dental implants cost?
The cost of your dental implant procedure will depend on several factors including how many implants you require, whether there are any complications, and whether your dental insurance covers implants. Your dental surgeon can advise you of the overall cost after your consultation.
Are dental implants right for me?
Dental implants are an effective option for people of all ages. Your dental surgeon can advise you on which tooth replacement solution is right for you. Based on your consultation and examination, they can determine whether you have any conditions that may affect the success of the procedure.
If you're considering dental implants, please contact us online or call 713-766-1493 to speak to one of our dental professionals today. We can answer any questions you may have about dental implants, veneers, preventive dentistry, and more.