Keep Your Smile Bright in Houston, TX with Preventive Dentistry
Your overall oral health is our top priority at Uptown Cosmetic & Implant Dentistry. Dr. Roberto Velasco and his team are dedicated to providing the highest quality dental care, which includes both general and preventative care services. Routine cleanings and regular examinations play a vital role in maintaining healthy teeth and gums. Whether you have had your last dental visit six months ago, or ten years ago, Uptown Cosmetic & Implant Dentistry can help keep your teeth healthy and looking good for years to come. The same goes for any other dental work you may have such as crown, bridges and/or implants.
The Importance of Preventive Checkups: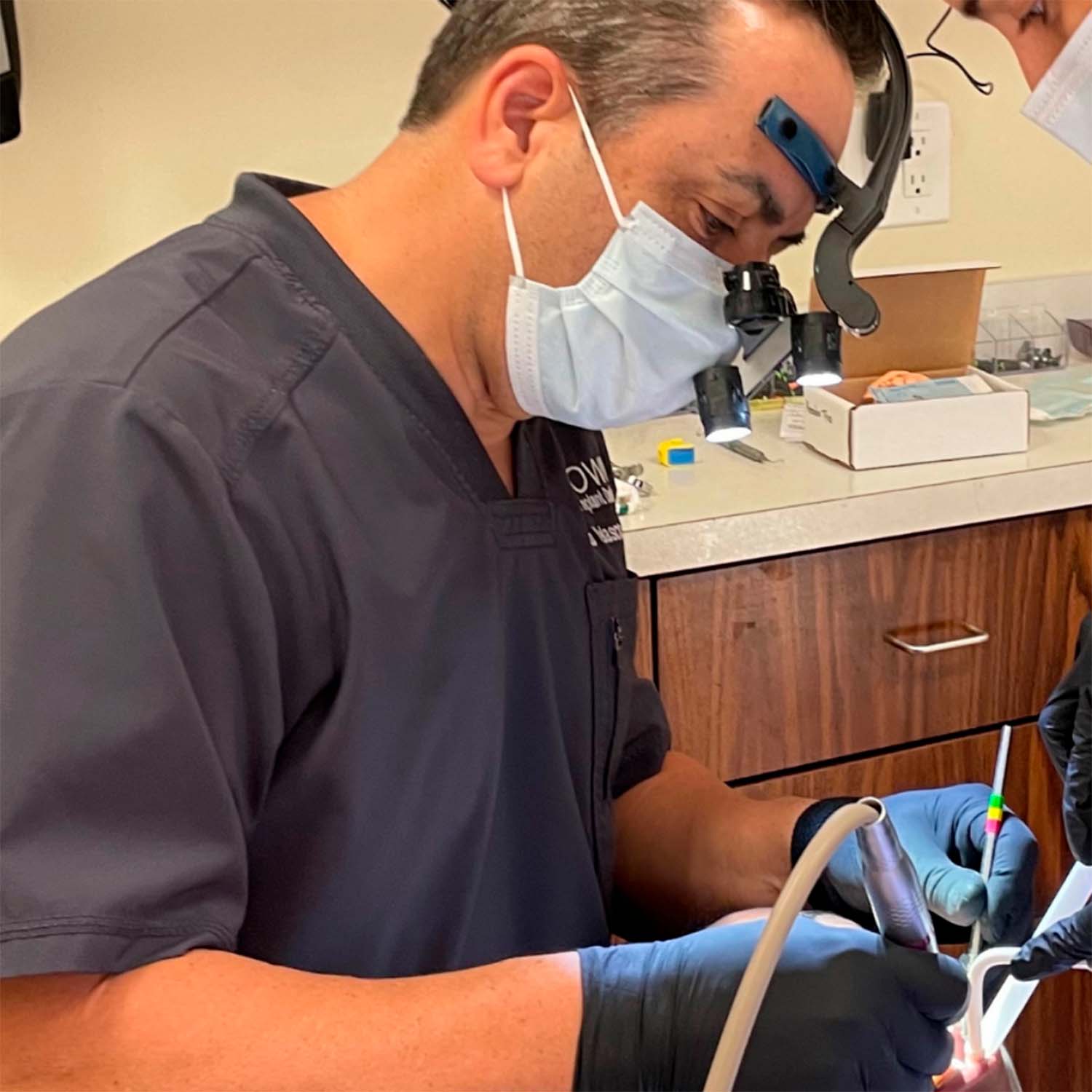 Routine & preventive dental checkups should be an integral part of your oral health regimen. These checkups can detect issues with your teeth or gums as soon as they begin to develop, treating them before they become a problem. Without consistent, professional cleanings, plaque will build on your teeth which can cause gingivitis, a condition allowing tooth decay and gum irritation to form. When left untreated, gingivitis can turn into the more serious periodontitis, or what we know as gum disease. If periodontitis is not treated by a professional, it will attack the gums, making them pull away from the teeth, giving bacteria a place to grow. Periodontitis can lead to serious infections and tooth loss. The bacteria in gum disease can also contribute to diabetes, heart disease, and even stroke. For this reason, depending on your age and dental health, the American Dental Association recommends at least two preventive visits a year.
Patient Testimonials
The staff at this office is so friendly and helpful. They know you by name and make you feel welcomed. Dr. Velasco knew exactly what I needed and was thorough and honest explaining my treatment plan. Will definitely recommend to any friends and/or family.

Always professional, available , precise, on point, reasonable, friendly, and on time! I've always hated visiting the dentist office growing up, but the whole staff here makes everything feel so safe. I recommend them to everyone! Just don't fill up too many seats lol I need my appointments!
Smile Gallery




The Preventive Checkup at Uptown Cosmetic & Implant Dentistry:
Preventative care at Uptown Cosmetic & Implant Dentistry begins with the routine dental exam. This includes x-rays, an examination, and any recommended cleanings and other optional treatments. Many times Dr. Velasco will require a checkup and cleaning before moving forward with dental implants or cosmetic enhancements.
In some cases, especially for those patients who have not had a checkup in many years, a more extensive cleaning (debridement) will be necessary to address the large buildup of plaque on the teeth and gums. Debridement uses ultrasonic tools and a scaler to break apart the hard plaque. This technique is not considered painful, although it is more uncomfortable than routine cleaning. Debridement can also take more time, requiring a second appointment, all at an additional cost. However, the debridement treatment is necessary and once it is completed, your teeth will be healthier.
What to Expect at Your Preventative Checkup:
Your preventative checkup will begin with a thorough exam & x-rays followed by a cleaning. This process is done by our highly skilled hygienist, Migne and Dr. Velasco. Any buildup and plaque that has developed on your teeth will be eliminated from your teeth at the time of your cleaning with the use of an ultrasonic appliance and handheld instruments.
X-rays are an important part of the dental exam, giving the dentist a chance to see your full mouth and all parts of each tooth to properly diagnose any concerns. Depending on your last set of x-rays, we may take the less intense "cavity check" x-ray once a year. A full set of x-rays will be taken approximately every 2-4 years. However, by law, new patients require x-rays at their initial visit.
After reviewing your x-rays, Dr. Velasco will check your teeth for gum disease, cavities, signs of bruxism, and any other issues. He will use this time to carefully discuss his findings and explain all of your options for correction. If any treatment is needed, it will be discussed before the end of your appointment. Some of our patients request an optional treatment at this phase, adding an extra benefit for their long term tooth health. Uptown Cosmetic & Implant Dentistry can help with a variety of additional services including:
Fluoride Varnish – Depending on the health of your teeth or risk for decay, we may recommend a fluoride varnish. The addition of fluoride is not permanent but instead gives your teeth a boost to protect against cavities or decay.
Sealant – Another popular treatment is the application of a sealant. The technique adds a coating onto your teeth, typically the molars, to prevent damage to healthy and cavity free enamel and keep plaque from building up. Frequent flossing and brushing are still necessary, but a sealant creates an added line of defense.
At the end of your checkup and cleaning, your hygienist will discuss the best ways to properly continue with a healthy dental routine at home. They will show you a proper method for brushing and flossing. Additionally, Uptown Cosmetic & Implant Dentistry will create a preventative dentistry schedule that will ensure the health of your teeth. We will assist in making your next appointment.
Between Your Preventive Dentistry Exams:
When you leave Uptown Cosmetic & Implant Dentistry after your cleaning, your teeth will feel smooth, clean, fresher, and shiny. Your smile will look vibrant and bright. To keep your teeth healthy until your next exam, we recommend sticking with a basic, consistent routine. Following these simple suggestions will keep your smile looking fabulous and your teeth healthy between checkups.
Brush at least twice a day with a fluoride toothpaste
Every three months, replace your toothbrush regardless of its condition
Replace your toothbrush anytime it starts to look worn
Consider a Sonicare or Oral B sonic toothbrush, as these will keep your teeth cleaner and more polished
Floss at least twice a day
Drink plenty of water
Limit soda and other acidic beverages
Eat a balanced healthy diet
General & Preventative Dentistry FAQs:
What is General and Preventative Dentistry?
General and preventative dentistry refer to a set of routine services for cleaning and examination of the teeth and gums. Frequent cleanings and examinations can detect and prevent future problems such as tooth decay and gum disease.
What will my General Exam Check for?
During your general examination, Dr. Velasco will inspect your teeth for cavities, bruxism, loose teeth, and other abnormities. He will also look for receding gums or signs of gum disease and even Oral Cancer. If anything needs to be addressed, Dr. Velasco will recommend the best treatment options.
What if I haven't had a Dental Exam or Cleaning for Years?
Uptown Cosmetic & Implant Dentistry is located in the heart of Houston, at 2425 West South Loop, Ste. 333, Houston, Texas. When you walk into our office, you will find the city's most welcoming dental office. We treat everyone with the same respect, kindness, and attention. Our team is dedicated to providing exemplary preventative and implant dental services, from cleanings to basic restorations, cosmetic makeovers, and full mouth reconstructions. Schedule your preventative checkup today by calling our office at 713-766-1493. Still have questions? Call our office or fill out our online Contact Us form.
What happens if Dental Debridement is Recommended?
Those patients who have neglected their dental hygiene routine or may not have had their teeth cleaned in a long time will require more extensive clearing using debridement. Using scaling supplies and an ultrasonic tool, your dental hygienist will be able to scrape off any tough plaque buildup. Debridement is not considered painful although it might be slightly uncomfortable than a routine cleaning.
How can I pay for my Exam and any Recommended Treatments?
Uptown Cosmetic & Implant Dentistry works with several insurance providers. We also make paying easy by accepting a variety of payment options. We accept cash and all major credit cards. Medical financing is available through CareCredit, Financing Solutions, and Lending Club. Contact Uptown Cosmetic & Impact Dentistry to get more information on your payment options.
Schedule Your Cosmetic Dentistry Consultation Today!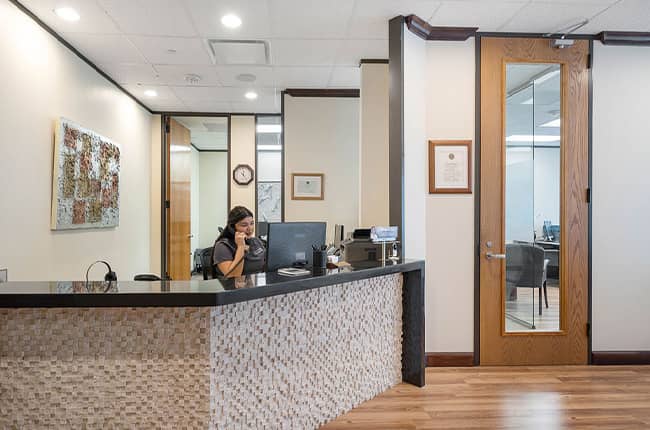 Dental Services
Quick Links