Keep Your Smile Bright in Houston, TX with Preventive Dentistry
Your overall oral health is our top priority at Uptown Cosmetic & Implant Dentistry, and preserving your family's healthy smiles for life is our main goal. Dr. Roberto Velasco and his team of experienced dentists, backed by expert staff, are dedicated to providing the highest quality dental care, which includes both general and preventative care services with extensive research coverage for orthodontics and different types of dental needs. These services are specially designed for diverse areas of oral health and people of all ages, including children, teens, and adults. Routine cleanings, regular examinations, and orthodontic check-ups play a vital role in maintaining healthy teeth and gums. They also help ensure the surfaces of any fillings, crowns, bridges, and/or implants remain in optimal condition. These procedures can make a significant difference in the development of your child's oral health, providing them with lifelong benefits. Whether you have had your last dental visit six months ago, ten years ago, need assistance with wisdom teeth, or are a new patient, each informative page on our user-friendly navigation system will guide you through our services, featuring expert articles and offering various activities for oral health maintenance. Uptown Cosmetic & Implant Dentistry can help keep your teeth healthy and looking good for a lifetime.
The Importance of Preventive Checkups: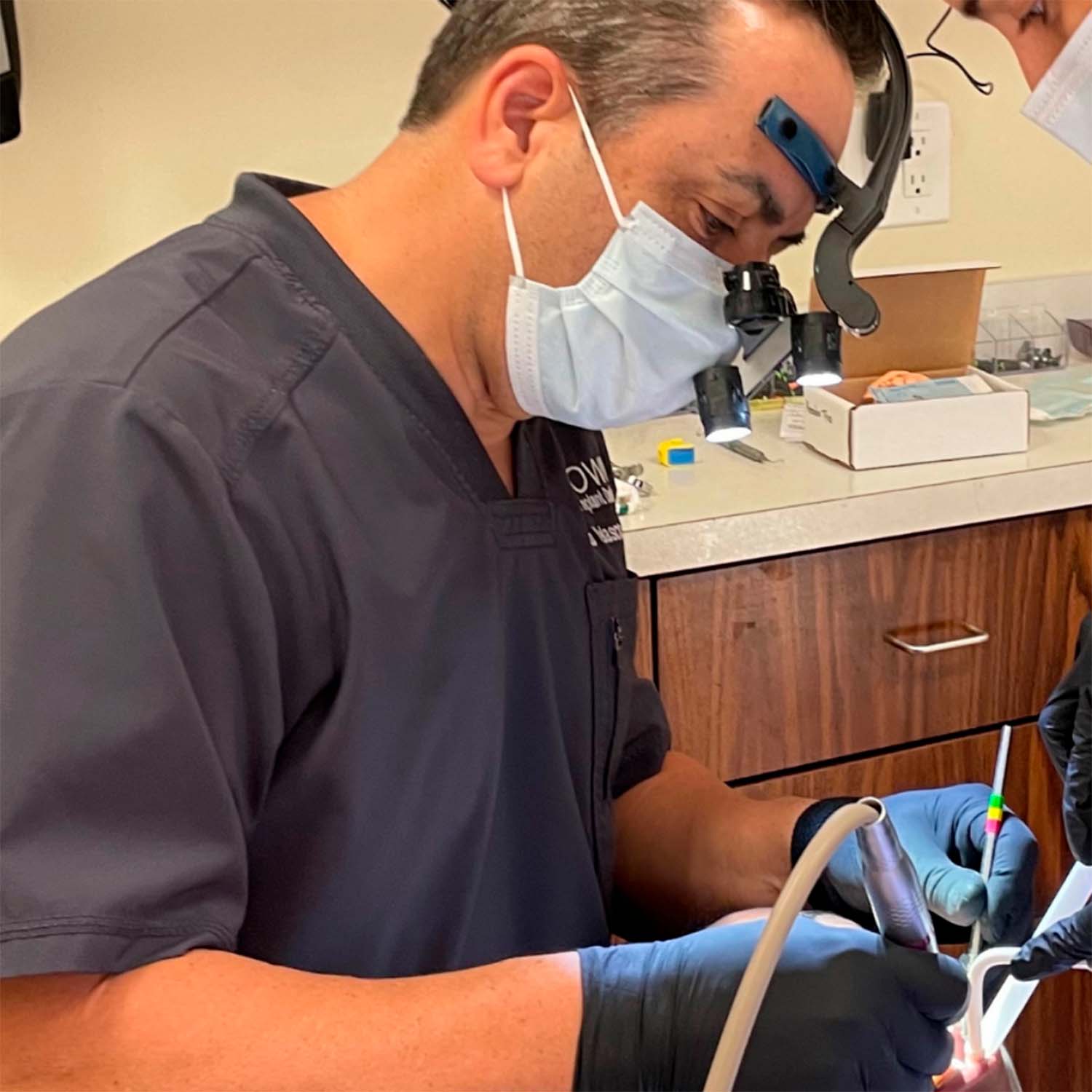 One essential type of preventive dental checkup should be an integral part of your oral health plan with our provider. These checkups, carried out by skilled dentists, can detect issues with your teeth or gums as soon as they begin to develop, treating them before they become a problem. By incorporating this practice into your plans, you can avoid a lot of dental complications. Without consistent, professional cleanings, plaque and tartar will build on your teeth, which can cause gingivitis, a condition allowing tooth decay and gum irritation to form. When left untreated, gingivitis can turn into the more serious periodontitis, or what we know as gum disease. If periodontitis is not treated by a professional, it will attack the gums, making them pull away from the teeth, giving bacteria a place to grow. Periodontitis can lead to serious infections and tooth loss. The bacteria in gum disease can also contribute to diabetes, heart disease, and even stroke. For this reason, depending on your age and dental health, experts and the American Dental Association recommend at least two preventive visits a year, ensuring your dental rights and providing numerous benefits along the way.
Patient Testimonials
The staff at this office is so friendly and helpful. They know you by name and make you feel welcomed. Dr. Velasco knew exactly what I needed and was thorough and honest explaining my treatment plan. Will definitely recommend to any friends and/or family.

Always professional, available , precise, on point, reasonable, friendly, and on time! I've always hated visiting the dentist office growing up, but the whole staff here makes everything feel so safe. I recommend them to everyone! Just don't fill up too many seats lol I need my appointments!
Smile Gallery





The Preventive Checkup at Uptown Cosmetic & Implant Dentistry:
Preventative care at Uptown Cosmetic & Implant Dentistry begins with the routine dental exam. This includes x-rays, an examination, and any recommended cleanings and other optional treatments, such as fluoride treatments for enhancing oral hygiene or mouth guard for preventing jaw clenching and protecting tooth enamel. Over the course of your dental care journey, many times Dr. Velasco will require a checkup and cleaning before moving forward with dental implants or cosmetic enhancements.
In some cases, especially for those patients who have not had a checkup in many years, a more extensive cleaning (debridement) will be necessary to address the large buildup of plaque on the teeth and gums. Debridement uses ultrasonic tools and a scaler to break apart the hard plaque. This technique is not considered painful, although it is more uncomfortable than routine cleaning.Debridement can also take more time, requiring a second appointment, all at an additional cost. However, the debridement treatment is necessary, and once it is completed, your teeth will be healthier. Incorporating proper oral hygiene practices, such as using toothpastes specifically designed for your needs and consuming teeth-friendly foods and snacks, can help maintain the results. For example, reducing the level of saliva-reducing actions like smoking can improve your oral health.
What to Expect at Your Preventative Checkup:
Your preventative checkup will begin with a thorough exam & x-rays followed by a cleaning. This process is done by our highly skilled hygienist, Migne, and Dr. Velasco, the esteemed author of many dental publications. They will apply their vast knowledge and ability to eliminate any buildup and plaque that has developed on your teeth at the time of your cleaning with the use of an ultrasonic appliance and handheld instruments, tackling both the tooth surface and hard-to-reach areas.
X-rays are an important part of the dental exam, giving the dentist a chance to see your full mouth and all parts of each tooth to properly diagnose any concerns. Depending on your last set of x-rays, we may take the less intense "cavity check" x-ray once a year. A full set of x-rays will be taken approximately every 2-4 years. However, by law, new patients require x-rays at their initial visit.
After reviewing your x-rays, Dr. Velasco will check your teeth for gum disease, cavities, signs of bruxism, and any other issues, such as potential problems with the jaw. He will use this time to carefully discuss his findings and explain all of your options for correction, ensuring you understand the best way to maintain or improve your oral health. Along with this, he will also create a customized plan to address your specific dental needs, giving you comprehensive coverage and peace of mind. If any treatment is needed, it will be discussed before the end of your appointment, so you can leave our office with confidence in your dental health plan. Some of our patients request an optional treatment at this phase, adding an extra benefit for their long-term tooth health. Under the name Uptown Cosmetic & Implant Dentistry, our logo represents the quality services we provide, including things like sealants, braces, extractions, and more, all tailored to each patient's individual needs and purposes. These services not only enhance your dental health but also help reduce the costs of future health care due to dental diseases. For families with kids, we understand the importance of instilling good oral hygiene habits early on to prevent health issues in the future, such as sugar-related enamel wear or other conditions. Furthermore, we can provide custom mouth guards for individuals engaged in sports or work that requires extra protection, and even advice on essential vitamins during pregnancy to maintain oral health.
Fluoride Varnish – Depending on the health of your teeth or risk for decay, we may recommend a fluoride varnish. The addition of fluoride is not permanent but instead gives your teeth a boost to protect against cavities or decay.
Sealant – Another popular treatment is the application of a sealant. The technique adds a coating onto your teeth, typically the molars, to prevent damage to healthy and cavity free enamel and keep plaque from building up. Frequent flossing and brushing are still necessary, but a sealant creates an added line of defense.
At the end of your checkup and cleaning, your hygienist will discuss the best ways to properly continue with a healthy dental routine at home. They will offer advice on the right products, such as ADA-approved toothbrushes with the ideal number of bristles and a proper method for brushing and flossing in each area of your mouth, including your tongue. Additionally, Uptown Cosmetic & Implant Dentistry will create a preventative dentistry schedule that will ensure the health of your teeth by focusing on both the surface and underlying state of your dental well-being at regular intervals.Involving daily food choices and habits in our discussion, we can help you make better decisions for your oral health, taking into account the effects of certain foods on your teeth. Considering the essential minerals and nutrients through well-balanced meals is of great interest in order to improve your oral health. We will assist in making your next appointment, handling any diagnosis and required follow-up treatments, and navigate through insurance and payment options for individuals and families, taking into account various reasons for different financial resources and arrangements.
Between Your Preventive Dentistry Exams:
When you leave Uptown Cosmetic & Implant Dentistry after your cleaning, your teeth will feel smooth, clean, fresher, and shiny. Your smile will look vibrant and bright. To keep your teeth healthy until your next exam, we recommend sticking with a basic, consistent routine using the proper forms of dental products and engaging in healthy lifestyle habits. Joining supportive groups and sharing experiences with others can provide additional resources for maintaining oral health. Following these simple suggestions will keep your smile looking fabulous and your teeth healthy between checkups.
Brush at least twice a day with a fluoride toothpaste
Every three months, replace your toothbrush regardless of its condition
Replace your toothbrush anytime it starts to look worn
Consider a Sonicare or Oral B sonic toothbrush, as these will keep your teeth cleaner and more polished
Floss at least twice a day
Drink plenty of water
Limit soda and other acidic beverages
Eat a balanced healthy diet
General & Preventative Dentistry FAQs:
What is General and Preventative Dentistry?
General and preventative dentistry refer to a set of routine services for cleaning and examination of the teeth and gums. Frequent cleanings and examinations can detect and prevent future problems such as tooth decay and gum disease, addressing any issue that arises promptly.
What will my General Exam Check for?
During your general examination, Dr. Velasco will inspect your teeth for cavities, bruxism, loose teeth, and other abnormalities. He will also look for receding gums or signs of gum disease and even Oral Cancer. If anything needs to be addressed, Dr. Velasco will recommend the best treatment options for each patient, taking each individual's unique experience into consideration.
What if I haven't had a Dental Exam or Cleaning for Years?
Uptown Cosmetic & Implant Dentistry is located in the heart of Houston, at 2425 West South Loop, Ste. 333, Houston, Texas. When you walk into our office, you will find the city's most welcoming dental office. We treat everyone with the same respect, kindness, and attention. Our team is dedicated to providing exemplary preventative and implant dental services, from cleanings to basic restorations, cosmetic makeovers, and full mouth reconstructions. Schedule your preventative checkup today by calling our office at 713-766-1493. Still have questions? Call our office or fill out our online Contact Us form.
What happens if Dental Debridement is Recommended?
Those patients who have neglected their dental hygiene routine or may not have had their teeth cleaned in a long time will require more extensive clearing using debridement. Using scaling supplies, an ultrasonic tool, and other specialized products, your dental hygienist will be able to scrape off any tough plaque buildup. Debridement is not considered painful, although it might be slightly more uncomfortable than a routine cleaning.
How can I pay for my Exam and any Recommended Treatments?
Uptown Cosmetic & Implant Dentistry works with several insurance providers. We also make paying easy by accepting a variety of payment options. We accept cash and all major credit cards. Medical financing is available through CareCredit, Financing Solutions, and Lending Club. Contact Uptown Cosmetic & Impact Dentistry to get more information on your payment options, including what works best for your particular situation, and we'll help you find the most suitable order of treatments to meet your needs.
Schedule Your Cosmetic Dentistry Consultation Today!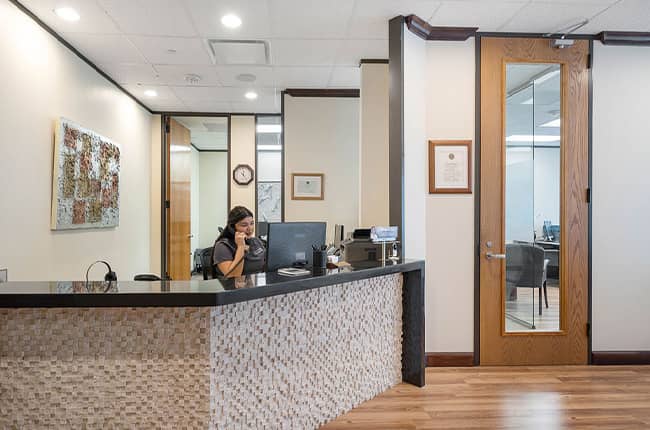 Dental Services
Quick Links