General & Preventive Dentistry
At Uptown we believe maintaining regular preventive dental checkups is an integral part of your oral health regimen. It helps reduce the chances of periodontal disease, but also helps you maintain a beautiful healthy smile and gums. Scheduling a dental checkup only takes a moment and the visit is very routine so it does not take long. The American Dental Association recommends you get at least two preventive visits to your dentist per year in order to prevent major issues arising from minor issues that can be caught early with regular checkups. We may recommend more or less visits depending on your age as well as things like risk factors and the overall health of your teeth, but generally at least two visits are the norm.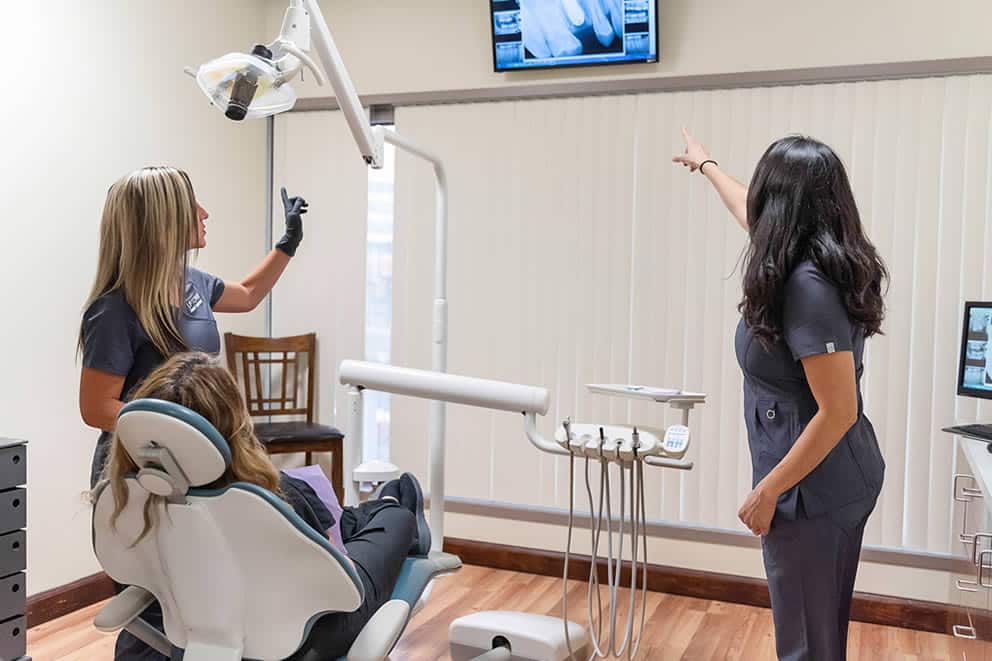 What To Expect During A Preventive Checkup
Dental Cleaning – One of our highly skilled dental hygienists will clean your teeth with special tools to remove plaque from your teeth. This substance contributes to tooth decays and gingivitis if left untreated. This is a painless process and will leave your teeth polished and feeling fresh and ready for the dentist to examine you. It should be noted, that if you have neglected your dental hygiene routine and have an unusual amount of plaque buildup; we will remove the buildup by performing a debridement which is done with an ultrasonic tool and scaling tools to scrape the plaque. This is painless as well and is outside the standard exam fee but is necessary to examine your teeth. Typically this takes a lot more time and you may have to re-schedule your exam after the procedure. Your hygienist will also discuss proper upkeep and show you proper brush and floss methods.
X-Rays – Depending on your last set of x-rays, we may take an x-ray of your teeth to see potential problems we can't see with the naked eye. We recommend a full set of x-rays every 2-4 years, and less intense "cavity check" x-ray once a year.
Dental Exam – Dr. Velasco will check your teeth for gum disease, cavities, ground teeth, and other abnormalities and then discuss his findings and what your options are if correction or treatment is needed.
Fluoride Varnish – Depending on your risk for tooth decay we may give you a fluoride varnish with your consent, should this be a necessary preventive measure.
Sealant – Another optional treatment in where a coating is laid on your teeth, typically the molars; to prevent damage to the enamel and keep plaque from building up as easy. Frequent flossing and brushing is still necessary, but this is an added line of defense.
What To Do After Your Exam
After you leave Dr. Velasco your teeth should feel fresh, smooth and shiny. We want you to have the best possibly results on your next exam, so there is a basic routine you can follow to maintain your dental health between checkups.
Brush your teeth at least twice a day with a toothpaste containing fluoride.
Check your toothbrush for frays and replace if it is worn. Replace a toothbrush every 3 months regardless of condition.
Floss at least twice a day
Limit soda and other acidic or sugar laden beverages to as little as possible and eat a balanced diet.
Invest in a Sonicare or Oral B sonic toothbrush. These are similar to the tools used in our office to polish and clean and yield better results than a standard toothbrush.
DON'T BRUSH IT OFF, BOOK YOUR PREVENTIVE CHECKUP TODAY
Uptown has an opening for you, contact us at 713-960-9623 and book your exam today!