Benefits of Teeth Whitening
A dazzling smile can transform your appearance and boost your confidence. Teeth whitening enhances the natural beauty of your teeth, leading to a brighter smile. It's a simple yet effective way to boost both self-esteem and oral hygiene. Here are more benefits:
01
Enhanced Confidence
Revealing white teeth magnifies your self-assurance. A brighter smile draws positive attention, fostering a sense of pride and boosting your overall confidence.
02
Brighter, Youthful Appearance
Whiter teeth contribute to a more youthful look, making you appear vibrant and refreshed. The transformation can take years off your appearance.
03
Improved Oral Hygiene
Teeth whitening often goes hand in hand with better oral care practices. This procedure can inspire you to maintain your dental health, promoting a holistic oral hygiene routine.
What is Opalescence Boost Teeth Whitening?
At Uptown Cosmetic & Implant Dentistry, our patients love our Opalescence Boost whitening system. Opalescence uses a patented gel formula of 40 percent hydrogen peroxide, combined with potassium nitrate and fluoride, to whiten the teeth. This professional in-office treatment couldn't be any easier. All you do is take a seat and we do all the work. An hour later you walk out with your dazzling white smile, up to eight shades whiter than when you walked in.
Opalescence Teeth Whitening System
Everyone wants to have a bright white smile, but the things we eat and drink, along with simple aging, all conspire to stain our teeth, leaving them yellow and dingy. In just one hour those stains, can be gone with professional help using our teeth whitening system Opalescence Boost and you will be ready to show off your new dazzling white smile.
What Our Patients Have to Say
My experience here was absolutely wonderful! The front staff were very polite and welcoming, the dental assistants were very kind and attentive to me, and the doctor did an excellent job in making sure i understand what kind of treatment i needed and explained my options perfectly to me.
Common Causes of Tooth Discoloration
Teeth discoloration can be caused by a number of factors Here are some common causes of tooth discoloration:
Dental Procedures: Certain dental and orthodontic procedures can result in tooth discoloration. For example, a crown or filling may leave teeth looking yellow or gray.
Tooth Sensitivity: Teeth that are more sensitive to hot and cold temperatures have a higher risk of becoming yellow or stained.
Surface Stains: Eating or drinking things with strong pigments (tea, coffee, red wine) may cause surface stains on your teeth. Frequent consumption of these foods and beverages over time can lead to long-term discoloration. A cosmetic dentist may be able to help remove these stains.
Yellow Shade: Natural aging can cause teeth to become slightly yellow in shade, due to the wear and tear on enamel.
Dark Stains: Tobacco use is one of the most notorious causes of dark stains on the teeth. Smoking or chewing tobacco will often lead to yellow or brown spots that require professional treatment from a cosmetic dentist. Discolored teeth aren't just an aesthetic concern; they indicate poor oral health, as well. If you're experiencing any type of discoloration on your teeth, it is important to consult with your dentist as soon as possible for proper diagnosis and treatment options.
Teeth Whitening Candidates
If you have yellow teeth or are looking to enhance your smile with a cosmetic procedure, then teeth whitening may be an appropriate option for you. Teeth whitening is a great option for many types of patients, including those with yellow teeth, teeth stained from tobacco products, and those looking for a quick dental treatment to improve the look of their smile.
However, there are some people who should not undergo tooth whitening procedures. For instance:
People with sensitive teeth may find that the bleaching agent used in professional whitening treatments causes discomfort or pain.
People with dental veneers should seek advice from their dentist before considering any type of whitening treatment, as it could discolor or damage the veneers.
People with cavities or gum disease should consult their dentist before undergoing any type of dental whitening treatment, as these can worsen existing conditions. • Pregnant or nursing women should consult their doctor before undergoing any type of dental treatment.
Teeth Whitening Consultation
A teeth whitening consultation is an important step in the process of getting your teeth professionally whitened. When you come to Uptown Cosmetic & Implant Dentistry for a consultation, you will be seen by one of our experienced dentists or dental hygienists. During the office visit, we will discuss the type of whitening procedure that best suits your needs and goals.
We may also recommend a professional solution if your discoloration is severe. A thorough teeth cleaning prior to any type of whitening procedure can help optimize the results. It's important to note that a separate appointment for a teeth cleaning may be necessary before any type of whitening procedure can be done. Additionally, we will review with you the different types of bleaching agents available and how they can help improve the color of your teeth for cosmetic purposes. During this consultation, it's very important to discuss any medications or medical conditions with your medical professional, so they can determine if there are any risks associated with a particular treatment plan.
The Cost of Teeth Whitening in Houston
The cost of teeth whitening in Houston can vary, influenced by the chosen procedure. Professional in-office teeth whitening options, such as Opalescence Boost, generally fall within a higher cost range. Over-the-counter solutions and at-home kits are generally more budget-friendly. Dental insurance might assist in covering some costs of professional whitening solutions.
If you're seeking an economical and potent choice for professionally whitened teeth, options like brilliant white offer a cost-effective alternative. It's important to consider that not all types of tooth structures react well to specific bleaching methods. Also, remember that all whitening treatments need proper upkeep and periodic touch-ups to maintain their effectiveness over time.
The Process of Teeth Whitening
At Uptown Cosmetic & Implant Dentistry, we use a comprehensive teeth-whitening system to give you your best smile yet. During the office procedure, our dentist will first assess your teeth and gums for any potential issues that may need to be addressed before beginning the whitening process.
After that, they'll apply a special solution to your natural teeth, which will help to break up any built-up yellow or brown stains. Once the solution is applied, you'll be able to see results in as little as one hour! If you're looking for even whiter results, counter teeth whitening is also available and can be done in the comfort of your own home. With both options, you can get a brighter and whiter smile without ever having to step foot in a dental office!
Risks and Side Effects of Teeth Whitening
Teeth whitening is a cosmetic procedure that can be done in a short amount of time and offers long-lasting results. However, it is important to note that there are some risks associated with teeth whitening, including potential damage to composite restorations, chemical reactions, sensitivity and gum irritation. It is best to consult with your dentist prior to starting any whitening procedures so they can assess the condition of your teeth and recommend the safest option for you.
Teeth Whitening Recovery
Recovering from teeth whitening is usually a fairly quick process. Your dentist will provide you with specific instructions for taking care of your pearly whites, such as maintaining your oral health routine and avoiding foods or drinks that might stain your teeth. With regular maintenance, you can enjoy a beautiful smile with natural color on a regular basis. If you decide to use whitening trays, it's important to follow the instructions provided by your dental care provider to achieve the best results and avoid any potential side effects.
Teeth Whitening FAQ's
Why do my teeth become stained?
Our tooth enamel is the hardest tissue on the human body, but it is also slightly porous. When we drink a cup of coffee or eat a bowl of blueberries, some of the color penetrates our enamel and stays. Unlike a stain on a shirt, over time, the stains accumulate and our teeth become a little dingy. This type of staining responds really well to teeth whitening.
Another type of staining that occurs in the dentin layer of the teeth that can happen from trauma to a tooth, as a reaction to tetracycline, or even from too much fluoride. These deep stains don't respond the same to teeth whitening. For these types of cases, Dr. Velasco can correct the stained teeth with porcelain veneers.

Here are the reasons your teeth aren't as white as they once were:

Food — Blueberries, raspberries, blackberries, even dark chocolate have natural pigments in them that can stain the enamel of your teeth.
Drink — Coffee, tea, red wine, cranberry and other dark juices, even cola soft drinks all can stain your teeth.
Smoking — Nicotine and/or tobacco leave yellow stains on your teeth.
Genes — The enamel on some people's teeth is darker than others. Also some people have enamel that is more porous and stains easier.
Fluorosis — If a child has too much fluoride, it can cause this condition, which stains the teeth. This staining is in the dentin.
Drugs — In the 60s and 70s tetracycline was a heavily used antibiotic, especially in children. Unfortunately, in many kids it permanently discolored their teeth.
How does teeth whitening work?
Contrary to some thinking, teeth whitening isn't an unlimited proposition. The goal is to return the patient's teeth to their natural, bright white color. The way whitening agents accomplish this isn't unlike the way detergents remove stains from clothing. Opalescence Boost's hydrogen peroxide is the whitening agent. When it penetrates your stained enamel, oxygen molecules from the hydrogen peroxide react with the discolored molecules that have embedded in your enamel. This interaction breaks the bonds that have allowed the stains to stick. As the oxygen molecules then spread across the tooth surface, it becomes whiter. Opalescence Boost can whiten your teeth up to eight shades.
What is the Opalescence Boost treatment like?
This is how an Opalescence Boost session at Uptown is done.

Step 1 — We determine the shade of your teeth with a shade guide.
Step 2 — We then place a lip and cheek retractor and a bite block. These protect your tongue, cheeks, and lips from the whitening gel.
Step 3 — A gum barrier is then drawn onto the gumline around all the teeth to be whitened. This barrier will completely protect your gums from the whitening gel.
Step 4 — The Opalescence Boost gel is then painted onto each tooth. The gel is allowed to stay on the teeth for 20 minutes.
Step 5 — We suction away the gel and check the degree of whitening. If more whitening is needed, we can apply the gel up to two additional times for 20 minutes each.
Step 6 — We rinse off your teeth, remove the gum barrier, and you're done. And the whole process took just an hour.
What are the benefits of having my teeth whitened?
It's amazing how a bright dazzling smile gives you more confidence when interacting and talking with others. Whitening is great before a big event such as a wedding or job interview.

And people react to a bright smile. According to a survey from the American Academy of Cosmetic Dentistry, 48 percent of people believe a smile is the most memorable feature after first meeting someone, more than the first thing a person says (25%). Respondents perceived people with flawed smiles as less attractive (37%) and less confident (25%) compared to people with perfect, white smiles.
How long will my teeth stay white?
Opalescence Boost teeth whitening can last for up to three years. But just how long your teeth stay bright white is really up to you. If your teeth became stained before by coffee and the like, they will become stained again.

Home hygiene makes a difference. Using whitening toothpaste (ADA approved, of course), and brushing for two minutes twice daily is important. Plus, coming in for twice-yearly professional cleanings at Uptown Cosmetic & Implant Dentistry is equally important to keeping your teeth their whitest.
Can teeth whitening damage my teeth?
The American Dental Association has done numerous studies on teeth whitening, covering decades of procedures, and has concluded that teeth whitening is safe and has given its approval to various products (including Opalescence Boost). There are not any recorded instances of irreversible or structural damage caused by whitening programs.
Will whitening make my teeth sensitive?
Whitening can make your teeth a little more sensitive for a brief period of time after the application, but this sensation passes quickly. The potassium nitrate in Opalescence Boost helps prevent sensitivity.
Why should I have in-office whitening versus using at-home products?
There are various over-the-counter whitening options out there, but they have their drawbacks. First, a trained dental professional is not administering them. Because of that the whitening agents used in at-home kits must be much less powerful in case some of the gel gets on your gums or tongue at home. By contrast, when we place the Boost gel on your teeth, we have created a barrier on your gumline, we've blocked your gums, tongue, and cheeks. Boost can use a 40 percent hydrogen peroxide solution because it will only be applied in-office.
Second, with at-home kits the application is inconsistent. Whether strips or one-size-fits-all trays, it's difficult to get a good, even application. This can lead to inconsistent results.
Third, at-home whitening is messy and it takes a long time. Most kits require application for 30 minutes every day for two weeks. Or, you could simply come to our comfortable Houston office and in just an hour your teeth are dazzling white.
Is It Safe?
Many people hear the word "bleach" and immediately think that it is toxic. The bleaching agent used in most whitening pastes is carbamide peroxide, which has been thoroughly evaluated by the American Dental Association (ADA).
The dental product manufacturers that make such products have done many experiments and studies to verify the safety of these teeth whitening products. Keep in mind that as with any health and beauty product there can be side effects for some users. Typically, the side effects tend to concern three major areas of the mouth: the gums, the teeth, and dental restorative products like fillings. The degree to which you may experience such side effects or issues depends on the type of whitening treatment you receive or use.
Schedule Your Cosmetic Dentistry Consultation Today!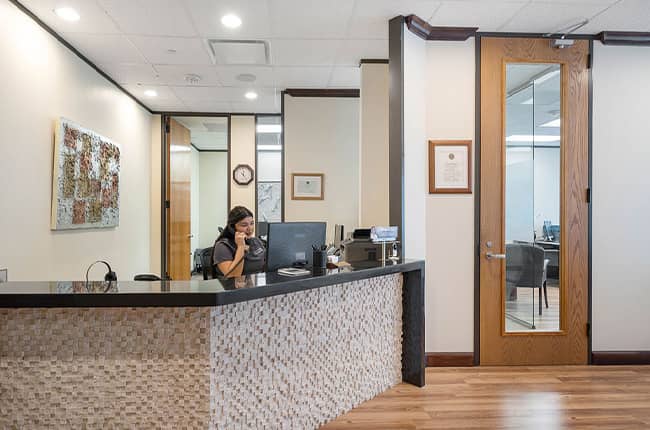 Dental Services
Quick Links