Maintaining good oral health is crucial, and understanding the benefits and advantages of various dental treatments can help you make informed decisions about your dental care. Missing teeth can negatively impact your ability to chew, enjoy your favorite food, and maintain a healthy smile. One effective way to address this issue is by considering dental bridges. In some cases, these restorations utilize cement and ceramics, which are laboratory-crafted to ensure the right fit and content. Here, we've compiled some essential information that covers the health benefits and advantages of dental bridges, in addition to some doctor advice to enhance your understanding of the available treatments.
If you are one of the 178 million U.S. adults that are missing at least one tooth, a dental bridge might be the answer you've been looking for. A dental bridge, like a cantilever bridge, is a permanent restoration that fills — or bridges — the gap left behind by a missing tooth or teeth. Dr. Roberto Velasco offers this essential restorative procedure at Uptown Cosmetic & Implant Dentistry in Houston, TX.
Bridges can be an affordable and permanent alternative to wearing dentures or getting dental implants. They can restore the function and aesthetic appearance of your smile using several replacement teeth that look and feel just like your natural ones. Moreover, dental bridges offer several health benefits, such as preventing gum disease caused by gaps in your smile. Ensuring that your dental condition is properly treated will also help maintain routine cleanings and general dental care.
What Are Dental Bridges?
If you are a good candidate for a dental bridge, it might be the solution you've been looking for to address the gap left behind by a missing tooth or teeth. Dr. Roberto Velasco offers this essential restorative procedure at Uptown Cosmetic & Implant Dentistry in Houston, TX.
These replacement teeth can be made from a variety of materials, like gold, palladium, and other alloys, though nowadays, porcelain is the material of choice because it can be made to look exactly like your natural teeth by specialized laboratory technicians.
Who Needs Dental Bridges?
When it comes to tooth loss, most people focus on the impact it can have on their appearance. And for good reason. Missing one or more teeth can put a big dent in your self-esteem and make it harder to interact with other people. There's also a pretty serious social stigma surrounding lost teeth, and it's often associated with poor hygiene, substance abuse, low income, and disease.
Beyond the cosmetic implications, there are also major physical consequences of missing teeth, like an increased risk for infections, gum and jawbone deterioration, trouble with chewing, chronic headaches, and speech problems.
Dental bridges are for people who have gaps on their smiles from missing one or more consecutive teeth. In terms of function, they can improve chewing, correct speech issues, prevent bone loss, and keep the surrounding teeth from moving into the empty space, which can lead to bite problems and other dental complications. Aesthetically, dental bridges will restore a more natural look to your smile, allowing you to talk, smile, laugh, and take pictures confidently. If your professional dentist suggests a deeper treatment, All-on-four might be the indicated one to rehabilitate your mouth.
What Type of Dental Bridge Is Right for You?
There are a few types of dental bridges, and each one is intended for a specific purpose. Dr. Velasco at Uptown Cosmetic and Implant Dentistry will evaluate your individual case to help determine the most appropriate bridge for your situation.
These are the four main types of dental bridges:
Traditional fixed bridge: The most common type of dental bridge. It consists of a set of filler teeth (pontics) held in place by a dental crown cemented into a natural tooth at either side of the gap. Traditional bridges are typically made of porcelain and are extremely durable.
Cantilever: These are similar to traditional bridges but are held in place by a dental crown cemented into one side of the gap only. Cantilever bridges are not as commonly used as conventional bridges because they risk damaging the supporting tooth.
Maryland: Also known as a resin-bonded fixed partial denture, Maryland bridges have metal or porcelain wings (framework) that bond to the backside of the supporting teeth, instead of a crown. They are typically used in patients that need one or more of their front teeth replaced.
Implant-supported: Unlike dental bridges that involve cementing full crowns or frameworks into adjacent teeth, with implant-supported bridges, a dental implant is first surgically fixed into the jawbone to hold the bridge in position. This is considered the most stable and reliable system and requires at least two surgeries – one to embed the implant and a second surgery to attach the bridge.
Dental bridges can also be either permanent or removable. Removable bridges are typically reserved for short-term applications because they don't offer good long-term support. Fixed bridges, on the other hand, can last anywhere from 10 to 15 years with proper care, such as maintaining dental hygiene, and sometimes even longer. In fact, dental bridges are just one of the many options found on a dentist's menu of services, which may also include orthodontics, braces, teeth whitening, fillings, root canals, and veneers.
Dental Bridges Procedure
Preparation for Dental Bridges Procedure
The first step in the dental bridge procedure is a consultation to assess the current state of your teeth. During this appointment, your dentist will examine your mouth closely and take X-rays of your teeth and jaw to determine whether a dental bridge is the best option for you. They will also provide you with additional info and references to help you understand the options available. Other restoration alternatives for missing teeth include porcelain crowns and dental implants.
To qualify for a dental bridge, you must have adjacent teeth that are healthy and strong enough to support it. These teeth, known as abutment teeth, have to be prepared to ensure the bridge fits properly. This preparation takes place at your first appointment, and it involves removing and recontouring a portion of the enamel of each abutment tooth to make room for the future crown that will support the bridge.
Next, your dentist will take impressions of the reshaped teeth and send them out to a dental lab for the construction of the bridge. You'll go home with a temporary bridge that protects the exposed teeth and gums while your permanent prosthetic is being made.
Dental Bridges Treatment
Your temporary bridge, carefully fitted to the patient during the first visit, will be removed at your second appointment, where your dentist will fit you with your new, custom-made dental bridge. Modern bridges, as mentioned on our site with the logo, are made with porcelain and matched to the color and shape of your existing teeth, so they look and feel incredibly close to the real thing. In fact, most people wouldn't be able to tell the difference between a porcelain bridge and your natural teeth unless they inspected your mouth very closely, with an understanding of tooth decay or oral hygiene.
You may need to come back to the office for one or more follow-up visits with Dr. Velasco to ensure the bridge, cemented in place, fits properly and that you're adapting well to the appliance. This article outlines some of the risks associated with poor fitting bridges and provides further information about necessary adjustments.
Recovery from Dental Bridges Procedure
Most patients are able to return to their normal activities soon after having a dental bridge placed. As the dental procedure involves applying a dental crown, you can expect to feel a little soreness and sensitivity in the abutment teeth for a couple of days. There can also be a short adjustment period where the bridge may not feel as comfortable inside your mouth as smaller pieces have been added. For example, you may experience:
The sensation that your bite feels "off"
Increased sensitivity to hot and/or cold temperatures
Sensitivity to pressure while biting or chewing
As you get used to your new bridge, you may want to make certain modifications to your diet to prevent further discomfort.Stick to soft foods for the first few days after having the prosthetic fitted, and avoid any crunchy, tough, or crispy foods that might cause pain when you bite them down. Facing these dietary differences may seem daunting at first, but with the right tools and knowledge, you can easily adapt to your new oral structure.
You may also want to steer clear of extreme temperatures, like iced drinks or hot soup until you're no longer experiencing sensitivity, or drink through a straw. Sticky foods, like toffee and beef jerky, can pull and dislodge your bridge, so try to avoid thеm as much as possible. Be aware of the relationship between the food you consume and your dental bridge to prevent any unwanted complications.
The area where the new filler tooth (pontic) meets the gum line can be difficult to clean and may lead to plaque, tartar buildup, and bacteria growth. To avoid these symptoms, be sure to brush your teeth at least twice a day and floss at least once daily. A water flosser can make it a lot easier to clean the hard-to-reach areas under the bridge and may be gentler on your gums. Learning to correctly use these cleaning tools is fundamental to maintaining your dental work's stability.
Why Choose Dr. Velasco
Dr. Velasco is a member of the American College of Prosthodontists, American Dental Association (ADA), Texas Dental Association (TDA), Greater Houston Dental Society (GHDS), Academy of Osseointegration Implant Society (AO) and the American Academy of Facial Esthetics (AAFE).
Dr. Velasco has lectured both nationally and internationally, mostly on implants.
He has extensive training in high-tech dentistry and implant dentistry.
Dr. Roberto Velasco has also trained in Europe on the All-on-4 Teeth-in-a-Day implant procedure.
Since moving to Houston in 2010, he has performed over 3,000 All-on-4 Teeth-in-a-Day implant procedures, with a very high success rate.
Frequently Asked Questions about Dental Bridges
How much are dental bridges in Houston, TX?
A dental bridge can cost anywhere from $700 to $15,000 depending on the type of bridge you select, how many replacement teeth you need, the complexity of the placement, materials, and more. As with many health-related expenses, the news of costs can be overwhelming, but it's essential to focus on the long-term benefits and work towards finding the best option for you.
Will dental insurance cover bridges?
Yes, most dental insurances pay for dental bridges. However, depending on your policy, your plan may cover only part of the procedure or the entire intervention. Call your insurance provider to learn more, or contact our office at 713-766-1493 if you have questions about pricing or payment options.
Are dental bridges permanent?
Dental bridges can be either permanent or temporary. Dentists typically apply temporary bridges as a provisional solution while the permanent bridge is being crafted because they are not durable and don't provide enough support. On the other hand, permanent bridges are highly durable and can last 10 years or more with proper care.
How many teeth can be on a bridge?
A traditional dental bridge can replace one, two, three, or more missing teeth, but it's not suitable for replacing an entire arch. This is because the greater the number of missing teeth, the more crowns are needed to support the bridge, which compromises its stability in the long run. If you need an entire arch replaced, your dentist may recommend an implant-supported bridge or a full-mouth restoration with dental implants or All-on-4®
Can dental bridges be whitened?
No, over-the-counter whitening products will not whiten your dental bridge. This is because prosthetic teeth are made with non-porous materials that don't respond to traditional bleaching agents. If you have a dental bridge that doesn't match the color of your natural teeth' color anymore, you may want to talk to your dentist about replacing it with a new set.
Schedule Your Cosmetic Dentistry Consultation Today!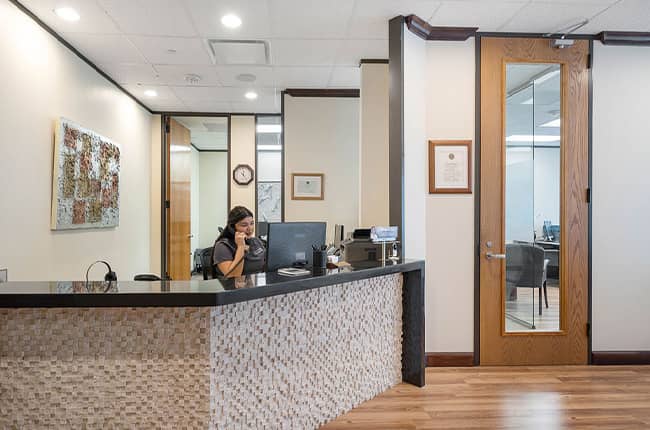 You don't have to go about your life missing one or more teeth. Dr. Velasco in Houston, TX, can help you get back to talking, singing, and laughing confidently with a custom-made dental bridge. Contact Uptown Cosmetic and Implant Dentistry online or Call 713-766-1493 to schedule a free consultation today!
Dental Services
Quick Links