Cosmetic dentistry is the branch of dentistry that deals with improving the aesthetics or appearance as well as the function of teeth. Using various tools and techniques, Dr. Velasco at Uptown Cosmetic & Implant Dentistry can improve teeth color, shape, alignment and many other factors that affect the overall appearance of a smile. Common procedures include cleanings, teeth whitening, bonding, crowns, veneers, contouring, and dental implants.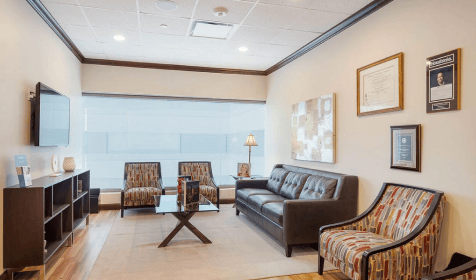 What is the Goal of Cosmetic Dentistry?
With cosmetic dentistry, Dr. Velasco seek to make the patient's smile as perfect as possible. The goal is to improve the appearance of the complete smile, without necessarily addressing the function. For instance, porcelain veneers applied to the visible portions of the teeth do not fix the underlying flaws with those teeth; they simply provide a perfect cosmetic solution. Cosmetic dentistry improves aesthetic issues such as whiteness, correcting misshapen teeth, alignment, reducing a gummy smile, and the like.
What's the difference between a cosmetic dentist and a regular dentist?
Cosmetic dentists are significantly different than general dentists. General dentists tend to focus a lot more on the function of your teeth rather than the appearance. On the other hand, cosmetic dentists are artists when it comes to teeth and are very much concerned with the appearance of your teeth. When you get a dental prosthetic (teeth replacement), it should closely resemble natural teeth. Due to various factors, getting a tooth replacement to match a natural tooth is an involved process that requires a large amount of skill.
Teeth are not a single color; they vary in color across the structure. They also both reflect and allow light to pass through. These unique properties must be replicated when fabricating dental prosthetics. Our cosmetic dentists and lab technicians use a variety of techniques and materials to ensure that your dental prosthetics will appear indistinguishable from natural teeth.
See What Our Patients Are Saying!
The doctor and staff here have been amazing. They answer all of my questions, which I had many, and have always been very professional and courteous. I look forward to switching over all of my dental needs to this office in the future.
Cosmetic Dentistry Treatments
Porcelain Veneers
Veneers are thin pieces of porcelain used to recreate the natural look of teeth while also providing strength and resilience comparable to natural tooth enamel. They are a popular option for chips, gaps, misalignment, fractures, cracks and front teeth discoloration. Our doctors at Uptown Cosmetic and Implant Dentistry have an eye for cosmetic detail as well as advanced technical knowledge of the process. You can have a new smile the same day you come in for your consultation!
Smile Makeover
Do you find yourself covering your smile at times? Have you looked in the mirror and dreamt of a beautiful new smile? If you have answered yes to either one of these questions then you should consider having a Cosmetic Smile Makeover. Improving the appearance of your smile can result in one or more cosmetic dental procedures, such as dental veneers, composite bonding, crowns and teeth whitening. A smile makeover is considered a cosmetic procedure that you choose to have performed. If you are in need of replacing teeth due to tooth loss or damaged teeth, a full mouth reconstruction is something that you may need to have performed, All-on-4 patients also highly recommend this procedure as their outcome has been a great success. Schedule a Free Consultation with one our top dental experts at Uptown Cosmetic & Implant Dentistry.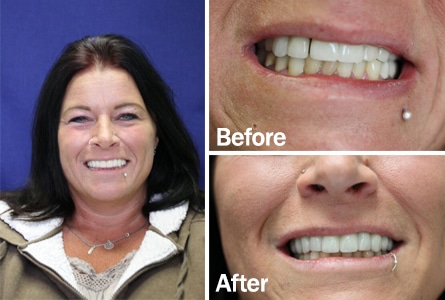 Porcelain Crowns
Do you have a dental crown that has discolored black or grey lines around the gum line? Do you have an allergy to metals?
Dental porcelain can be sculpted to closely replicate the look of natural tooth enamel. Porcelain crowns are an excellent choice when recreating the form and function of a damaged tooth because a crown basically replaces the entire external portion of the tooth down to the gum level. Crowns are not limited to simply replacing the original tooth but can be designed to create an even better aesthetic appearance.
Dental Bridges
Are you missing a tooth that is preventing you from being able to chew properly or just looks bad?
There are several replacement options for missing teeth. In some cases when you have badly damaged teeth neighboring your missing teeth, a dental bridge by an implant dentist may be the best prescribed dental treatment for replacement. This option used to be the standard of care, but with the evolving advancements in dentistry, dental implants have become the standard of care. Learn more about Dental Implants.
What kind of results or benefits would I get from cosmetic dentistry?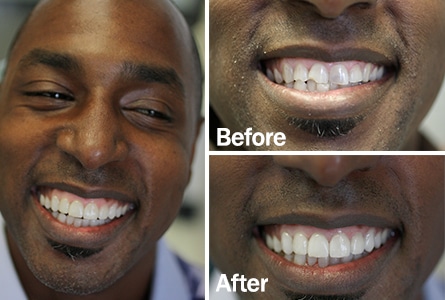 A better question would be, "What's the value of a beautiful smile?" It's hard to quantify what a great smile does for a person, particularly when they've had obvious aesthetic issues for quite a while. Having a beautiful perfect smile can really give your self-confidence a boost. Whether your teeth have been grey in places due to a reaction to tetracycline when you were a kid, or whether you've always had that gap between your two front teeth that you felt self-conscious about, you'll love having a beautiful smile from here on out.
Is cosmetic dentistry painful?
Most of our cosmetic treatments and procedures are either painless or only need minimal local anesthetic. For instance, when placing a crown, Dr. Velasco will locally numb the tooth receiving the crown when he prepares the tooth for the crown. This is because to make room for the crown he needs to remove some of the tooth enamel on all four sides and on top. Some people request local anesthesia when shaving off the outer enamel when preparing the teeth for porcelain veneers, but others don't feel the need. Treatments such as bonding and teeth whitening don't require any local numbing.
Pain following these treatments is unusual. Any residual soreness is easily managed with over-the-counter pain medications.
Is cosmetic dentistry safe?
These procedures are all extremely low risk and safe. Crowns and veneers simply cover existing teeth. Whitening is one of the most popular dental procedures around the world and has proven to be utterly safe and utterly popular.
What kinds of cosmetic problems can be corrected with cosmetic dentistry?
Short of dramatically moving teeth (which would require orthodontics), Dr. Velasco can address most other issues. Remember, these are not issues with the health of the teeth and gums, simply with their appearance.
Closing gaps between teeth
Whitening badly stained teeth
Straightening poorly aligned teeth
Replacing missing teeth
Fixing chipped teeth
Covering badly pitted teeth
Changing the shape of misshapen teeth
Reducing gummy smiles
Lengthening overly short teeth
How long will I enjoy the results of my cosmetic treatments?
That depends on what treatments we did. For instance, teeth whitening generally lasts up to three years, but your teeth can also stain more quickly if you drink lots and lots of coffee. Porcelain crowns last up to 20 years, but they can last longer. Porcelain veneers usually can be counted on for 10-15 years before a new set is needed to replace them. Composite fillings should be around for at least 15 years, maybe longer. If Dr. Velasco recontours your gums, those changes are permanent, as your gum tissue will not descend back down your teeth. A bridge lasts from five to 15 years, depending on your habits.
Is cosmetic dentistry covered by insurance?
Most dental insurance plans have a set amount of money available each year. It is intended to address more of the common maintenance issues such as cleanings, exams, fillings, and the like. It is not meant to cover elective procedures. Most cosmetic procedures such as porcelain veneers or teeth whitening are not covered by insurance.
Schedule Your Cosmetic Dentistry Consultation Today!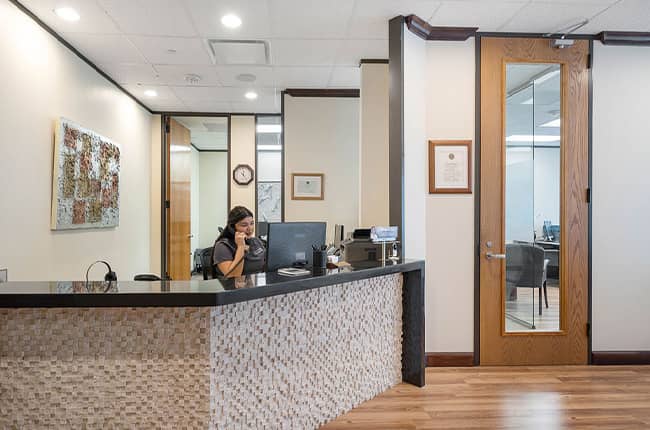 Dental Services
Quick Links