Orthodontic treatment has advanced over the years, and the majority of patients no longer require conventional metal braces. ClearCorrect aligners offer nearly invisible teeth straightening technology for crowded teeth, gaps, overbites, and more. Dr. Roberto Velasco at Uptown Cosmetic and Implant Dentistry in Houston, Texas, specialize in the metal-free orthodontic approach.
During the 90s and 2000s, most traditional orthodontic patients were teenagers. However, clear aligners are now the preferred orthodontic treatment for both teens and adults, and one-quarter of clear orthodontic aligner patients are adults. ClearCorrect aligners allow patients to improve their smiles discreetly and comfortably without metal brackets or wires.
What are ClearCorrect Aligners?
ClearCorrect aligners, which are also known as invisible braces, offer a modern orthodontic treatment option featuring nearly invisible, removable alignment trays. A series of computer-generated, custom-made aligners are created to progressively correct patients' crooked or misaligned teeth. Patients can remove the aligners daily to enjoy eating, drinking, brushing their teeth, and flossing as normal.
Uptown offers patients straight, beautiful teeth with this virtually invisible teeth-straightening system. ClearCorrect can address a variety of cosmetic dental issues, such as:


Crossbite
Underbite
Overbite
Gaps
Crowded teeth
Nearly straight teeth
Benefits of ClearCorrect in Houston, TX
Our dentists create a customized ClearCorrect treatment plan for each patient to shift their teeth into position for a gorgeous smile based on their dental needs and cosmetic goals. ClearCorrect aligners utilize advanced teeth straightening technology that accommodates the patient's lifestyle rather than interrupting it.
Adults who are uninterested in wearing metal braces often choose ClearCorrect because the aligners offer discreet dental manipulation. Eighty percent of adult patients report that having beautiful, straight teeth is one of the most valuable transformations they have experienced. Over 90% of adult patients said that straight teeth positively affected their confidence, and 75% said they saw a positive impact on their life.
Benefits of ClearCorrect include:
Removable trays, which allow for cleaning, flossing, and eating
Smooth, bracket free orthodontic treatment
Nearly-invisible aligner trays
Increased confidence
Outstanding results
Tooth-straightening smile makeover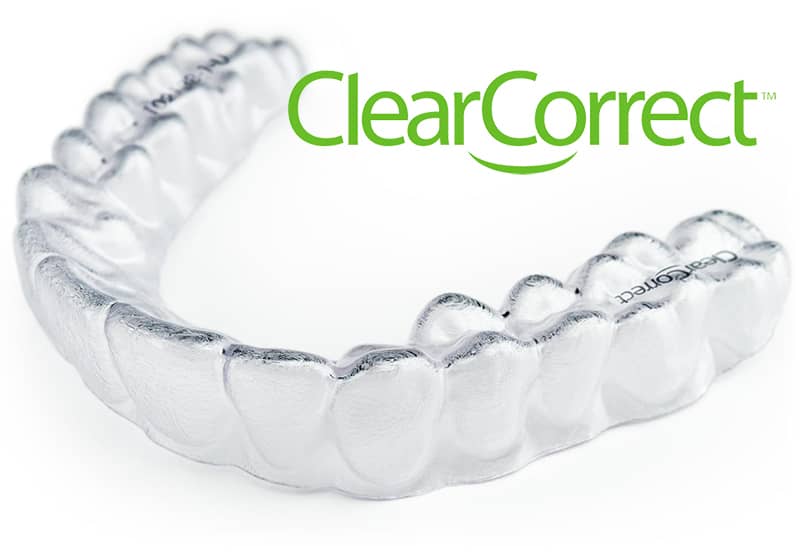 ClearCorrect vs. Invisalign
The dentists at Uptown Cosmetic and Implant Dental prefer ClearCorrect aligners to Invisalign for a number of reasons. First, the trays are thinner, making them more comfortable to wear and less noticeable. They are made from medical-grade plastic and offer a lot of flexibility with their treatment plans. After weighing the pros and cons, we prefer ClearCorrect in our office.
ClearCorrect Candidates
ClearCorrect offers a discreet way for patients to straighten their teeth. Ideal candidates are those who are willing to cooperate completely with the clear aligner process, including wearing the trays 22 hours a day and removing the aligners for eating and brushing their teeth.
The ClearCorrect treatment process is ideal for adult patients who are uncomfortable with metal braces and brackets and have crowded teeth, gaps, crooked teeth, an overbite, open bite, crossbite, or underbite. The dentist examines potential candidates during a consultation to determine if ClearCorrect is the best option.
ClearCorrect Procedure
Our dentists determine each patient's candidacy for ClearCorrect orthodontic treatment during a consultation. If they determine that the procedure is the best way for the patient to achieve straight, beautiful teeth, they will begin by taking photos of the patient's teeth and face as well as x-rays and a dental scan. ClearCorrect patients may be those with the following types of dental concerns:


Overbite – The upper front teeth overlap the lower front teeth.
Crowded teeth -The upper or lower teeth overlap and lack proper spacing.
Underbite – The patient's lower front teeth overlap their upper front teeth.
Open bite – The front teeth on the upper or lower level slant outward and are unable to touch when the mouth is shut.
Diastema – The patient has small or large gaps or spaces between their teeth.
Each patient receives a digital preview that explains their ClearCorrect steps to follow, and a series of custom trays are computer-designed to precisely match their teeth. Each set is worn 22 hours a day for approximately one to three weeks. Each aligner in the series straightens the teeth a little bit more than the previous aligner, which is approximately 2/10mm per clear tray. Follow this ClearCorrect indications for better results.
The patient must maintain excellent oral hygiene during the ClearCorrect process, and it is a good idea to wash the trays with mild soap or brush them with non-abrasive toothpaste each day to prevent bacteria buildup. The aligners gradually reposition the teeth and establish a straight, beautiful smile as the teeth transition into their optimal position.
Patients may experience mild soreness and discomfort when a new set of aligners is introduced, but this fades as the teeth and mouth become accustomed to the new position of the teeth. A more attractive smile and straight, beautiful teeth are achieved while the treatment progresses. Most treatments are completed in one to two years, but the patient's level of cooperation in following instructions can affect the treatment time.
At the conclusion of the treatment, the dentist provides each patient with a retainer to wear at night to prevent the teeth from moving towards the original position. Most patients choose clear retainers, but others choose to have a permanent retainer placed on the inside of their lower front teeth based on their lifestyle and preferences.
ClearCorrect Recovery
The dentist will explain the ClearCorrect tooth straightening process during the consultation. Most patients experience mild soreness and discomfort during the beginning of the treatment and when they receive a new set of aligners. This discomfort is to be expected and fades as the patient's mouth becomes adjusted to wearing the aligners.
This innovative teeth straightening program is based on a computerized treatment plan, so the outcome is far more predictable than traditional metal braces. The process is comfortable and convenient.
ClearCorrect Cost
Different treatment options are provided based on the patient's needs. Dr. Velasco may recommend a limited six-treatment plan for a minor alignment case. A 12-treatment plan would include 12 sets of aligners for moderate adjustments, and an unlimited plan would include as many aligners as are needed for more complex alignment cases.
The price of the treatment will depend on the number of aligners needed to achieve the final results. The dentist will explain the treatment plan and the price of the treatment during the consultation. Healthcare payment options are available at Uptown.
ClearCorrect treatment plans, which include six aligners, typically cost $2000. Treatment plans that use unlimited aligners cost approximately $4,000 to $5000.
Frequently Asked ClearCorrect Aligners Questions
What can I expect during the ClearCorrect teeth straightening process?
Your dentist will explain the tooth straightening process during the consultation. Each patient's experience is unique, but it typically takes several weeks for the patient to get used to wearing the aligner trays and some sensitivity and discomfort are common.      
For example, your bite may feel different because your teeth will be moving, which is normal. Some patients experience minor speech problems and lisps as they adjust to wearing an aligner in their mouth.
How are the ClearCorrect aligners kept clean?
The aligners are stain-resistant and remain clear and clean if they are washed with non-abrasive toothpaste or mild soap and cool water daily. Our staff will provide you with instructions for taking care of the aligners.
How will I maintain my results?
After your treatment goals are met, your dentist will provide you with a custom-made retainer that is either permanent or removable, depending on your preference. The removable retainer is worn while you sleep each night to maintain the results.
How long does the ClearCorrect teeth straightening treatment take in mild cases?
Each patient's treatment varies. However, patients who require mild tooth movement may complete their treatment in just 6 months. The dentist provides each patient with a computer-generated treatment plan based on their needs. 
Are clear braces better than metal braces?
ClearCorrect aligners are better in many ways when compared to traditional braces, which use sharp metal brackets and poking wires. Clear aligners are virtually invisible and are removed while you eat and brush your teeth. 
While metal braces often leave stains after the patient has the braces removed, ClearCorrect aligners allow the patient to continue to floss and brush their teeth during the treatment to keep their gums and teeth healthy and clean. ClearCorrect provides outstanding results for a variety of cosmetic issues, including an overbite, underbite, crooked teeth, and gaps.
How long does it take for ClearCorrect to straighten teeth?
The treatment length varies based on the severity of the case. Patients with a very mild case may only need to wear aligners for six months. Mild to severe cases typically wear trays for 1 to 2 years.
Call for a ClearCorrect Aligners Consultation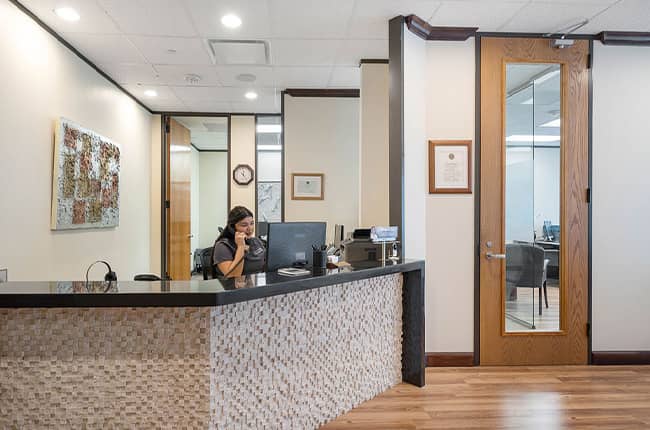 If you would like a beautiful, straight smile without metal brackets and wires, call 713-766-1493 or visit Uptown Dentistry to schedule a ClearCorrect consultation in Houston, TX, with Dr. Roberto Velasco. Clear aligners offer a convenient and invisible orthodontic experience for teens and adults.