What is the All-On-4® Dental Implant Procedure?
The Most Technologically Advanced Treatment Option for a Full Mouth Reconstruction is the Teeth-In-A-Day* All-On-4® Procedure
Dr. Velasco has performed more All-On-4® treatments in Texas than most other dentists. This revolutionary treatment helps patients dealing with failing or missing teeth reason or those unhappy with their ill-fitting dentures, transition to fixed, non-removable teeth, in most cases in one day.
Our doctors at Uptown Cosmetic & Implant Dentistry in Houston, Texas have specialized training and techniques that allow patients to leave the day of their surgery with dental implants and a beautiful new smile that is functional. In the past, this may have taken multiple dental surgeries and procedures. Our experienced dental team will help coordinate your All-On-Four™ procedure effortlessly.
Patients that undergo the All-On-Four procedure are some of the happiest we treat. They no longer have to live with removable dentures and all of the associated problems. They can eat, speak, and enjoy life without the worry of having their teeth shift or fall out.
You may also call our office directly at 713-766-1493 to schedule an appointment or ask questions.
---
What Does the All-On-4® Procedure Process Entail?
Characteristics include:
Full-arch rehabilitation with only four implants
Two straight anterior implants and two implants tilted up to 45º in the posterior
Immediate Function (fixed provisional bridge)
For patients meeting criteria for immediate loading of implants
Graft-less procedure
Bone grafting is avoided by tilting the posterior implants, utilizing available bone
Give us a call today to schedule your free consultation. Thank you for choosing Uptown Cosmetic & Implant Dentistry!
Benefits of the All-On-4
Rapid Change
With the All-on-4 treatment you will receive an immediate improvement in your life. Edentulous patients are able to achieve a restored full-arch prostheses on four implants within hours. Same-day surgery gives quick customer satisfaction due to enhancement in function, speech, and self-esteem.
Less Time
Tooth loss reason is accompanied with loss of jaw bone, and requires bone grafting and reconstruction of jaw bone. If bone loss is preventing you from attaining normal vertical dental implants, then the All-on-4 procedure is perfect for you. This prosthesis procedure achieves permanent results without requiring the time- consuming practice of bone grafting or rebuilding bone.
Lower Cost
Cosmetic dental surgery can be quite expensive but it is always worth the investment in the long run. In comparison to traditional dental implants for an edentulous jaw, the All-on-4 procedure is the least time-consuming and less expensive. This simple four implant solution reduces the number of surgeries and treatment time, hence less costs overall.
Stability
Because of the loss in bone in the jaw, there is a skepticism with the endurance of the All-on-4 procedure. Longer implants are used by tilting the two posterior implants; therefore strengthens the contact from bone-to-implant. Not to mention, vertical bone augmentation is not necessary. The revolutionary technology of All-on-4 allows the tilted implants to be secured to an anterior bone in better quality.
What Our Patients Have to Say
Smile Gallery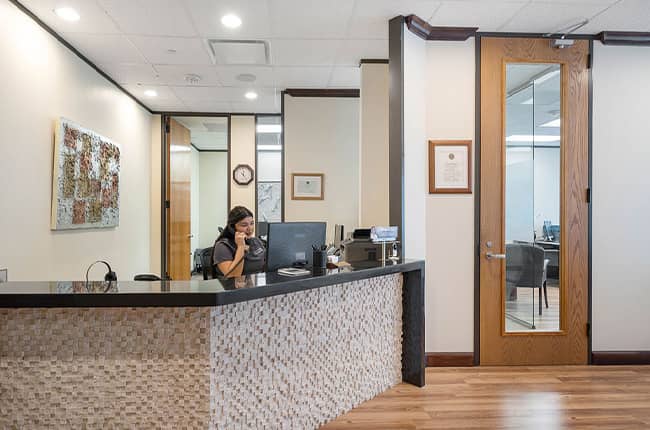 All-On-Four™ FAQs
What is the All-On-4® Dental Implant Treatment?
The All-On-4™ Dental Implant treatment is a non-removable dental prosthesis that replaces a full arch or a full mouth of teeth; using the most advanced technology, Dr. Velasco is able to replace all the teeth in one arch with permanent dental implants in only one day. People that are missing multiple teeth, that have unhealthy or unattractive teeth or dentures that fit poorly can finally have a beautiful, strong and healthy smile, functional teeth that look and feel like normal. The All-On-4™ Dental Implant procedure is performed in a single day; patients arrive in the morning and will leave Uptown Cosmetic and Implant Dentistry with a mouthful of new teeth that look and feel natural. For more complex oral health issues you might opt for a All-on-4 treatment instead.
Who is a good candidate for the All-On-4® procedure?
Almost anyone struggling with tooth loss reason, dental disease, or is frustrated with dentures that slip may make a good candidate for the All-On-4 Dental Implant. It is important that the patient be in generally good health and fully understand the procedure. As Dr. Velasco attaches the implants directly into the jawbone, even patients with bone loss can enjoy exceptional results with Dental Implants. Additionally, age is not a limiting factor with the All-On-4™ Dental Implant Treatment.
How are All-On-4® Dental Implant performed?
To begin, Dr. Velasco will examine your overall health, your existing teeth, the health of your gums, and evaluate your jaw, bone density, and any bone loss. A surgical template of your teeth will be created so that our in-house lab can create your new teeth. Next, Dr. Velasco will extract any loose or unhealthy teeth. He then carefully places each arch in the mouth, securing them into the dense bone of the jaw. A set of temporary teeth are put in place where they will remain until the arches are fully healed. Once the procedure is complete, you will be free to go home. Over time, osseointegration will occur as your jaw and gums bond with the implants. In roughly three months, the healing will be complete, and your permanent teeth will be put into place.
How long will the All-On-4® procedure take?
Patients will need to arrive at the Uptown Cosmetic and Implant Dentistry office in the morning. During this appointment, Dr. Velasco will first work with his surgical team, extract all remaining diseased teeth, place four or five dental implants into your jaw bone and the in coordination with our in-house lab Dr. Velasco will create a mold for the new teeth. The complete procedure takes approximately two to three hours per arch. You will leave the office in the afternoon with a temporary set of teeth in place.
What type of anesthesia is used during the All-On-4® procedure?
Depending on the individual patient, several different types of anesthesia can be used during the All-On-4™ Dental Implant procedure. These can include including IV sedation, orally administered sedation, or inhalation conscious sedation. Patients generally use full sedation provided by a board-certified anesthesiologist. It is the goal of Dr. Velasco and Uptown Cosmetic and Implant Dentistry to ensure you have a completely comfortable and safe procedure.
What kind of results can I expect after getting the All-On-4® Dental Implant Procedure?
For those missing the majority of their teeth or struggling with poorly fitting dentures, the All-On-4™ will provide a life-changing sense of confidence and self-esteem. Your new implants will look and feel like natural teeth. You will also be able to eat anything with confidence, talking and smiling with your natural-looking teeth. Even better, the new teeth will continue to look great for years to come.
What can I expect during my recovery from the All-On-4® Dental Implant Procedure?
As the new teeth are directly connected to the implants, the recovery from the All-On-4™ procedure is easier than with many other implant methods. However, it is common to experience some swelling and bruising after the procedure. Before leaving the office, you will be given detailed instructions on taking care of your new teeth. For the first couple of weeks, you will have a special instruction pertinent to your health, diet and oral care. As the initial weeks pass, you will gradually regain all of your normal eating and hygiene habits until the implants fully heal. At Uptown Cosmetic and Implant Dentistry we will strive to guide you and help you during every step of the way.

Prepare for your initial recovery — You'll want to lay low for a few days after your procedure. Get your bed or your recovery nest ready. Have lots of entertainment and books. You'll want to keep your head elevated for the first few days, even when sleeping.
Expect to have some speech issues — If you've been missing all or most of your teeth, you've become accustomed to speaking without them. It will be different at first with your new teeth. You'll have to get used to speaking, especially with some consonants; this is completely normal. Just be ready for it. Reading out loud is great training.
Prepare to eat a soft diet — Yes, you will have a full set of teeth for each arch when you return home late the afternoon of your procedure, but they aren't ready to go out and buy a T-bone. You need to remember that your eight implants need time for the jawbone to grow around the implants — a process called osseointegration — making them a part of the jaw. This will happen, but it takes from 3-4 months. At first, you'll be on a completely soft diet for a couple weeks. Then you can progress to finely cut up foods and cooked vegetables. We'll give you a guideline to what you can eat when, but don't be surprised at the caution you'll need to exercise. Of course, if you've been missing most of your teeth, you've already had a very limited diet when it comes to eating hard or chewy foods.
Be kind to your temporary teeth — Just as with what you eat, don't revert to chewing fingernails, chewing ice, opening packaging, and the like with your new temporary teeth. All of those habits need to go away for good.
Will I be ready to eat anything immediately after my All-On-4® procedure?
Your All-On-4™ Dental Implant Prosthesis will soon give you the ability to eat anything. However, until your new arches have completely healed, you will need to be gentle, sticking with a soft diet and cutting easy to chew food into small pieces. In about three months, your dental implants will be completely integrated to your bone, at this point we can remove your temporaries and deliver your final permanent teeth.
Your permanent teeth can be fabricated from several materials, based on your preference. The final teeth can be made of a very dense polymer (Acrylic) reinforced with a Titanium framework, or they can be fabricated from Zirconia, which is a very strong ceramic. You can discuss with Dr. Velasco what is your best option or which one is your preference.
How much does All-On-4® cost?
The cost of your All-On-4™ will depend on a variety of factors including the system and type of teeth used. During your consultation with Dr. Velasco and his office coordinator will determine the exact price of your All-On-4™. On average, the starting price for All-On-4™ Dental Implants will be about $18,500 and can go up to around $25,000.
Can I finance my All-On-4® Dental Implants?
Uptown Cosmetic and Implant Dentistry accepts a variety of payment types, including all major credit cards. We also accept financing through CareCredit, LendingClub, and Healthcare Finance Solutions. During your consultation appointment, you will speak with our treatment coordinator to learn more about each financing option or apply online through each lender.
Dental Services
Quick Links