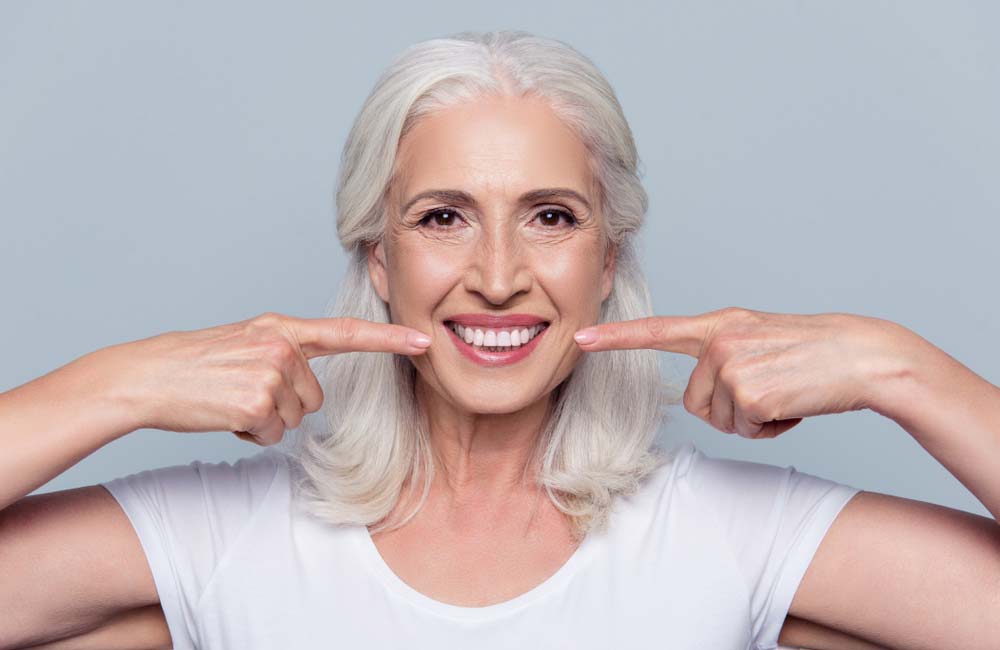 A missing tooth or teeth can alter speech, reduce the jawbone's integrity, decrease one's ability to chew food, and slowly shift the teeth. Despite these possible changes, the news that a tooth must be removed no longer has to be tragic. While a missing tooth or teeth can significantly impact the appearance of your smile, advancements in dental technology now allow for a quick and natural-looking restoration process.
Reasons You Might Lose Your Teeth
According to the American Dental Association, Americans are keeping their teeth longer than ever before with the help of general and preventive care. But, while advances in dental health provide stronger, healthier smiles, there are four main reasons why you might lose your teeth.
1. Gum Disease
Gum disease, also known as periodontal disease, is the leading cause of tooth loss in adults. Bacteria collects in the gum tissue and creates an infection. If the infection is not caught early and treated, it will begin to destroy the gums and the jawbone, which hold the teeth in place. Without these critical structures, the teeth become loose and eventually fall out.
2. Cavities
A cavity is a tiny hole in the tooth that affects the inner workings of the nerve and root. When a cavity or tooth decay is caught early and treated, the prognosis is favorable. However, an untreated cavity can destroy the tooth from the inside out, requiring a root canal or possibly removing the tooth.
3. Trauma
Even when you take excellent care of your teeth, you may experience tooth loss due to a sports injury, car crash, fall, or another traumatic accident. While avoiding an accident that causes tooth trauma is not always possible, preventative measures like wearing a mouthguard while playing sports are recommended in some cases.
4. Age
There is a strong correlation between whole-body health and issues occurring in the mouth. For example, high blood pressure, smoking, poor diet, diabetes, and arthritis increase the risk of tooth loss. The risk of tooth loss does increase with age.
Simple prevention steps can help reduce the risks. Floss and brush twice daily, avoid tobacco products and visit the dentist every six months for regular checkups and cleanings. Follow all periodontal cleaning and maintenance recommendations if gum disease is detected, a risk that increases with age.
Downsides to Conventional Dentures
Dentures are used after the teeth are removed and the gum tissue has healed. Complete or partial dentures may replace missing teeth and the surrounding tissue for a natural-looking smile. Still, conventional dentures may lead to the recession of the jawbone and changes in the structure of the face. Downsides of traditional dentures include: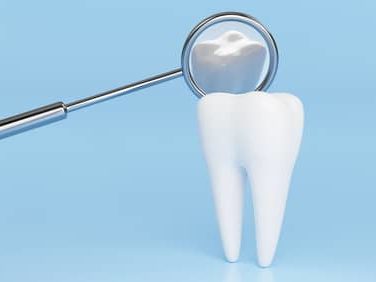 Cover the roof of the mouth
Feel unnatural
Don't function like natural teeth
Looseness
Bulkiness
Reduced ability to taste
Jawbone recession and facial collapse
Difficulty chewing
Must remove to clean
Modern dental technology has provided excellent alternatives to conventional dentures. Dental implants eliminate the need for dentures or removable bridges and are the top alternative to dentures. While the cost of implants is higher than removable dentures and implants, they more closely resemble the look and feel of natural teeth.
Not everyone is a candidate for full implants, but exceptional alternatives like All-on-4® implants are available, which allow natural-looking false teeth to be placed permanently on just four implants, instead of one per tooth. More and more patients are now considering permanent tooth replacement options over traditional dentures.
Permanent Tooth Replacement Options
A missing tooth or teeth caused by an injury, severe tooth decay, gum disease, or age can change the appearance of your smile and the overall functionality of your teeth. A missing tooth can create several problems, including negatively altering the alignment of the teeth and increasing the risk of losing additional teeth. The good news is that there are several excellent options available for replacing lost teeth to restore functionality and a beautiful smile.
Dental Implants
Dental implants are an excellent option for replacing one or more teeth. Implants are surgically placed into the jawbone, unlike removable dentures or a fixed bridge. The American Association of Oral and Maxillofacial Surgeons (AAOMS) confirms that dental implants are frequently the best choice for replacing missing teeth.
First, the dentist removes the damaged tooth or teeth and treats any potential infection. A bone graft may be necessary when the tooth is removed to fill the hole that is left behind. The graft integrates with the jaw to provide a solid foundation of the appropriate height and width needed to support an implant. Next, a titanium implant is placed into the area.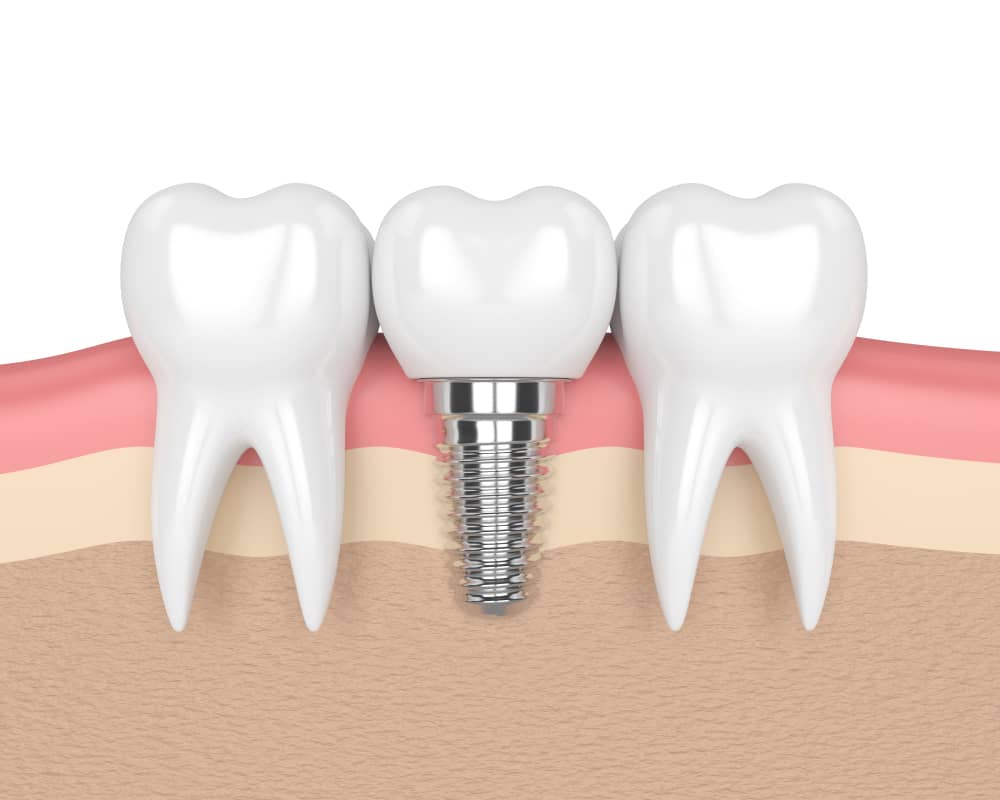 After the post has healed and integrated into the bone, the dentist measures the site to create an abutment and crown to attach to the implant. The implant looks and performs like a natural tooth, and the entire process typically takes 3 to 7 months. A full mouth of dental implants provides natural-looking and functioning teeth, which are more stable and comfortable than conventional dentures.
Dental implant candidates must have a solid and healthy jawbone and gums to provide a viable environment. If you're experiencing bone loss related to a tooth abscess or oral health issues like gingivitis, you may not be a candidate for full dental implants. However, bone grafting may be an option to strengthen the jaw and create a stable base to hold the implants.


Appropriate alternative tooth replacement options are available for individuals who suffer from bone loss, such as All-on-4®.
All-on-4® Full Mouth Replacement
All-on-4 dental implants provide an excellent option in place of dentures, which can be ill-fitting, feel unnatural, and must be removed for cleaning. The All-on-4® system uses four dental implants that fuse into the bone to support a new set of natural-looking teeth. The All-on-4® treatment is an excellent option in place of full mouth implants when the jawbone shows signs of advanced deterioration and when you are looking for a more affordable option.
All-on-4® implants allow patients to smile and eat all the food they enjoy confidently. There are numerous benefits to choosing the All-on-4® tooth replacement option, including natural-looking teeth in one day, minimal procedures and visits, never having to remove the false teeth, preventing a sagging jawbone, no messy creams or adhesives, computer-guided implant precision, and a permanent set of natural-looking, secure denture implants.
The best candidates for All-on-4® implants are individuals who are missing many teeth and have sufficient jaw bone structure and gum tissue in place to support four implants. The implants are strategically placed where the bone is strong enough to maintain and support the implant and permanently hold a complete set of natural-looking teeth. All-on-4® restores the patient's ability to chew without worrying about a denture slipping out of place, and the implants will help prevent bone loss and gum recession long-term.

Full Mouth Restoration
Full mouth restoration combines cosmetic dentistry with restorative technology to restore function and improve the mouth's health and beauty. Complete mouth restoration is recommended for patients with multiple missing teeth, cracked or broken teeth, and badly worn teeth due to grinding or other habits.
Extensive teeth restoration is beautifully done with full-mouth restoration, which addresses the entire mouth and may include crowns, veneers, bridges, dental implants, and more to improve chewing and provide a beautiful smile makeover.
Full mouth restoration permanently addresses the function and appearance of the entire mouth. It allows the dentist to create a unique plan based on the patient's needs to improve the teeth's color, shape, and position.
A variety of factors that deteriorate the teeth, gum, or jaw can be addressed with full mouth restoration. Full mouth restoration candidates have severe tooth decay, periodontal disease, worn down teeth, or dental trauma resulting in tooth loss. The combination of dental treatments used to restore the mouth strengthens the facial structures and restores a beautiful smile.
Learn More About Tooth Replacement Options
If you're missing one or more teeth and are interested in tooth replacement options, call 713-999-6984 or visit Uptown Cosmetic and Implant Dentistry in Houston, TX, to schedule a tooth replacement consultation.