Uptown Dental Lab & Milling Center
One of the challenges faced today for dentists is that crowns, bridges, dentures, partials and other dental appliances have to be sent off to a dental laboratory.
At Uptown Cosmetic & Implant Dentistry we offer a full-service on-site including lab, "Uptown Dental Lab & Milling Center" where our lab technicians are able to fabricate your dental restorations without having to be shipped to an outside laboratory. The latest dental digital technology is used to offer our patients the state of the art work. This allows Dr. Velasco the ability to complete every case efficiently whether it be a full mouth restoration or teeth in a day.
Dentists often struggle to ensure the correct shade of a veneer, crown, bridge and other restorations but Uptown Dental Lab & Milling Center has full ability to work with natural light and a custom shade room, allowing for you always to get the best dental restoration possible.
Zirconia crowns have quickly become the preferred material for dental crowns. Zirconia is a very strong substance that can endure wear and tear of everyday use. When looking at Zirconia crowns from an aesthetic point, it is clear and very similar to a natural tooth and reflects light the same way.
Zirconia is a very dense material that looks exactly like natural teeth with the advantage that it is extremely strong and doesn't stain. It's a big advantage for patients knowing that they are going to have something that is secure in their mouths, which will not break and will look fantastic year after year. Zirconia crowns can withstand the biting pressure of the front teeth as well as back teeth grinding.
The look of zirconia crowns and bridges is so close to natural teeth that it is hard to tell the difference.
Porcelain is the conventional material used for veneers offering a stronger durability and life span in the mouth than resin-based veneers. Uptown Cosmetic & Implant Dentistry now offers the latest veneer technology services, to allow you quicker service and less time in a dental chair. With this new treatment we are able to insert your permanent veneers the same day we reduce your teeth for the fitting, which eliminate the need to return to our office for another visit.
At Uptown Cosmetic & Implant Dentistry, we strive to stay on the leading edge of technology to ensure our patients get the most up to date options.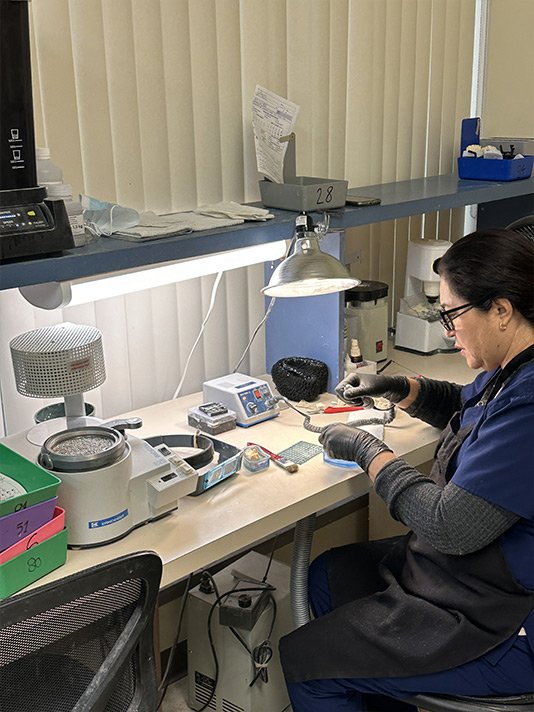 Why Choose Uptown Cosmetic & Implant Dentistry?
Uptown Cosmetic & Implant Dentistry in Houston, Texas is the ideal choice for anyone seeking a smile transformation, thanks to its welcoming environment, wide range of services and dedication to exceptional, personalized dental care.
These are just a few reasons why patients choose Dr. Roberto Velasco and his team of dental professionals for all their dental needs.
Experience and Expertise
Dr. Roberto Velasco, DMD is one of Houston's leading prosthodontists with over three decades of experience specializing in implant dentistry. After receiving his specialty degree in Prosthodontics from Nova Southeastern University in Florida, he joined the NSU College of Dental Medicine as the Course Director for Implant Dentistry, Occlusion, and Dental Bio-Materials. Dr. Velasco is a leader in industry and shares his knowledge as a speaker at national and international implant dentistry events.
Extensive Range of Services
Our goal is to provide you with the best elective treatment so that you can obtain the smile you've always wanted. To do this, we offer a comprehensive range of dental services, including cosmetic procedures, dental implants, restorative dentistry, and general dentistry, making Uptown Cosmetic & Implant Dentistry a one-stop-shop for patients with diverse dental needs.
Advanced Technology
At Uptown Cosmetic & Implant Dentistry we utilize cutting-edge dental technology and techniques, ensuring patients receive the best and most up-to-date care possible. This includes 3D digital CT Scan technology for dental implants, new technology for veneers, and All-On-4® treatments for full mouth restoration. In addition, our on-site lab allows us to create state-of-the-art, customized solutions for all your dental restoration needs.
Personalized Care
Dr. Velasco and his highly experienced dental team are known for their compassionate, patient-centered approach, making patients feel comfortable and at ease throughout their dental experience. Each patient receives a tailored, step-by-step plan designed to address their specific needs and situation. Our team utilizes 3D CT scan images to gain valuable insights, enabling us to create a customized treatment plan that is perfectly suited for you.
Same Day Procedures
While other dental practices may need to send their dental appliances to an external lab for fabrication, The Uptown Dental Lab & Milling Center allows us to quickly and efficiently create customized dental restorations, many of which can be inserted the same day. This saves you time and prevents you from having to return for additional appointments beyond regular follow-ups.
Safety Above All Else
For our patients, safety always takes precedence. We are dedicated to making certain that each procedure is completely safe and performed with the utmost care and professionalism. With a multitude of safeguards in place and a commitment to using the safest equipment and cutting-edge technologies, we aim to provide a smooth and worry-free experience throughout your treatment.
Patient Comfort
Dr. Velasco employs diverse anesthesia methods and cutting-edge dental approaches to ensure procedures are as pain-free as possible. While recovery discomfort may differ across techniques, patients typically experience minimal pain. During your consultation, Dr. Velasco will walk you through the specifics of each procedure and discuss how he can help you feel at ease throughout your appointments.
Affordability and Financing
Uptown Cosmetic & Implant Dentistry offers competitive pricing and flexible financing options, making services accessible to patients with varying budgets. Your consultation includes a meeting with a financial counselor who will go over your personalized treatment plan and walk you through your options to help make your ideal smile within reach.
Convenient Location
Uptown Cosmetic & Implant Dentistry is conveniently located in the heart of Houston at 2425 West Loop South, Suite 333. The central location provides easy access for patients in Houston's Uptown, Galleria, River Oaks, Kirby, Memorial, Greenway Plaza, and Bellaire areas.
All-On-Four™ FAQs
What is the Uptown Dental Lab & Milling Center?
The Uptown Dental Lab & Milling Center is a state-of-the-art facility within the dental practice. It is equipped with cutting-edge technology to design, create, and customize dental prosthetics such as crowns, bridges, and veneers for patients.
How does the Dental Lab & Milling Center benefit patients?
The in-house lab allows for greater control over the quality and customization of dental prosthetics, ensuring a precise fit and enhanced aesthetics. This also leads to faster turnaround times and a streamlined treatment process.
What types of dental restorations can be made in the in-house lab?
The lab can create a variety of restorations, including implant-supported prostheses such as All-On-4® dental implants, new technology for veneers, zirconia crowns and more. In addition, we are constantly seeking out the latest innovations to ensure you get the most current dental solutions.
What technology is used in Uptown Dental Lab & Milling Center?
The lab utilizes state-of-the-art technology, such as CAD/CAM systems, digital milling, and 3D printing, to produce precise and durable dental restorations.
Can the lab accommodate urgent cases or complex treatments?
Yes, the lab allows the dental team to address urgent cases and complex treatments efficiently, ensuring patients receive timely care and optimal results.
How does the lab contribute to the overall patient experience at Uptown Cosmetic & Implant Dentistry?
The lab plays a crucial role in streamlining the treatment process, maintaining high-quality standards for dental prosthetics and providing patients with a convenient, comfortable, and personalized experience. Some dental restorations can be produced the same day, meaning patients don't have to spend valuable time returning to the office for multiple visits.