Uptown Cosmetic & Implant Dentistry is excited to welcome the newest member of our dental team! Dr. Camilla Barrilleaux, DMD, MS, is a Prosthodontist who specializes in replacing and restoring missing teeth. Her use of advanced dental techniques and her passion for dentistry has changed her patients' lives and restored their confidence and quality of life.
But, how has she contributed to the Uptown Cosmetic & Dentistry community and what can you expect from her in the future? If you want to learn more about Dr. Camilla Barrilleaux's background and expertise, keep reading through our post.
What Is Dr. Barrilleaux's Approach to Dentistry?
Dr. Barrilleaux uses the latest technology and techniques to provide her patients with outstanding dental care. Her skills as a dental professional set her apart from other Prosthodontists in the area and have even earned her an award for excellence.
She was the recipient of the Southeastern Academy of Prosthodontics Foundation Excellence in Prosthodontics Award in 2016 and has continued to gain a reputation as a highly-respected Prosthodontist at Uptown Cosmetic and Implant Dentistry in Houston, Texas. In short, Dr. Barrilleaux believes that all patients should be provided with top-level care and treatment.
However, as a compassionate health care provider, Dr. Barrilleaux also understands the importance of skill in combination with empathy. Not only does she work hard to give her patients excellent dental results, but she also makes sure that her patient's dental needs are met in a satisfying way.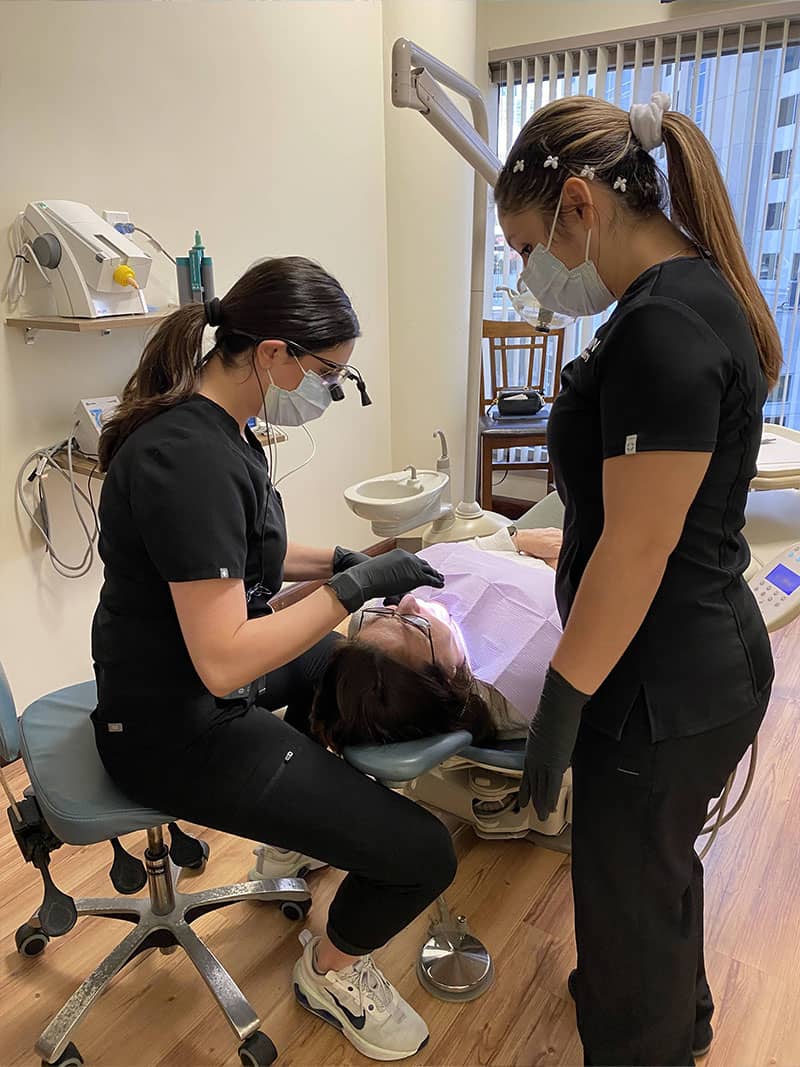 Many people are uncomfortable at the dentist, but Dr. Barrilleaux does her best to ensure that anyone who walks through her office stays comfortable and worry-free. By explaining the process of restoration and listening to her patient's concerns, she ensures that a trip to the dentist is minimally stressful and uncomplicated.
Finally, Dr. Barrilleaux knows the value of collaboration and synergy. She actively works to problem-solve alongside the team of specialists at Uptown. By taking this team-oriented approach to dental work, she ensures that every patient leaves her office with healthy, functional teeth that look aesthetically pleasing and fully natural!
How Can Dr. Barrilleaux Improve Your Smile?
Dr. Barrilleaux is dedicated to excellence and uses her expertise as a prosthodontist to preserve and restore patients' teeth and improve their dental health and overall health. In particular, as a Prosthodontist, she focuses on tooth restoration and can help rebuild your mouth to full functionality. This way your teeth look good and work how they are supposed to.
Prosthodontists often deal with dental issues surrounding missing teeth. This means that they frequently perform tooth reconstruction. Teeth undergo a lot of damage as we go through our lives. Tooth decay and trauma are common and might require a root canal by another specialist.
A Prosthodontist helps with the reconstruction process by placing crowns and caps on the treated tooth. Dr. Barrilleaux is skilled with crown implants and can help you finish reconstructing your teeth with this type of implant and other reconstructive options.
On the other hand, if the damaged tooth is not recoverable, Dr. Barrilleaux can implant veneers and other dental implants to help restore your mouth to full use.
In short, there are many ways that Dr. Barrilleaux can help improve your smile and dental health. All-on-4 dental implants, one of the most advanced dental treatments, are available to her patients for full mouth reconstruction, as well.
You can also choose to have cosmetic work done on a single tooth or multiple teeth. This includes changing the shape of the tooth, closing gaps between teeth, improving the color and appearance of teeth, and better aligning the mouth for function.
Dentures, bridges, and many more treatment options are also available to patients to solve their dental problems. Dr. Barrilleaux would be happy to talk about your choices when you come in for your appointment.
What Is Dr. Barrilleaux's Educational Background?
Dr. Barrilleaux has shown an interest in the dental profession from an early age. In fact, at the age of six, she knew she wanted to be involved in dentistry. To prepare for dental school, she completed a four-year undergraduate degree. In 2011, she received a Bachelor of Science degree in Biology from Millsaps College in Jackson, MS.
The following year, in the month of August, Dr. Barrilleaux went on to complete a Master of Medical Science (MS) from Mississippi College in Clinton, MS. This further enriched her medical knowledge and would lead her to the next step on her path to dentistry.
After completing her Master's, Dr. Barrilleaux would go on to attend four years of dental school. She received a Doctor of Medicine in Dentistry (DMD) from the University of Mississippi Medical Center in Jackson, MS.
Finally, in June of 2019, Dr. Barrilleaux received a Certificate in Prosthodontics from Michael E. DeBakey Veterans Affairs Medical Center in Houston, TX. This certificate was given to her after three years of additional dental school, where she finally became an ADA-approved Prosthodontics specialist.
What Kind of Dental Results Will Dr. Barrilleaux Provide During Your Appointment?
You can expect the best dental results from Dr. Barrilleaux during your next visit to Uptown Cosmetic & Dentistry. With her exceptional educational background, experience, and her dedication to both the art and science of dentistry, patients can get that perfect smile and even improve other aspects of their health.
How Can You Contact Dr. Barrilleaux?
If anything we have mentioned sounds relevant to you and your dental health, please contact us today. We can give you more information on the dental services Dr. Barrilleaux offers and will schedule a free consultation for you.
The team at Uptown Cosmetic & Dentistry looks forward to hearing from you and can't wait to see you at your next appointment. Please call us at this phone number: 713-574-8366.
Quick Q & A With Dr. Camilla Barrilleaux:
Q: The best thing about being a dentist is…
A: The ability to give patients their smiles back!
Q: The biggest influence on my decision to become a dentist was…
A: I could blend science and art and help people at the same time.
Q: The thing I like best about Houston is…
A: The food! And the diversity of its people.
Q: The words I try to live by are…
A: Kindness is never wasted.
Closing Words From Dr. Camilla Barrilleaux:
"I love improving the quality of life for my patients. Giving them the ability to eat, smile, and speak with confidence is very rewarding for me. I hope to continue to change people's lives. At a minimum, I want the patients who are fearful of the dentist to find their experiences with me to be relaxing and to show them that the dental appointments don't have to be scary."-Dr. Barrilleaux