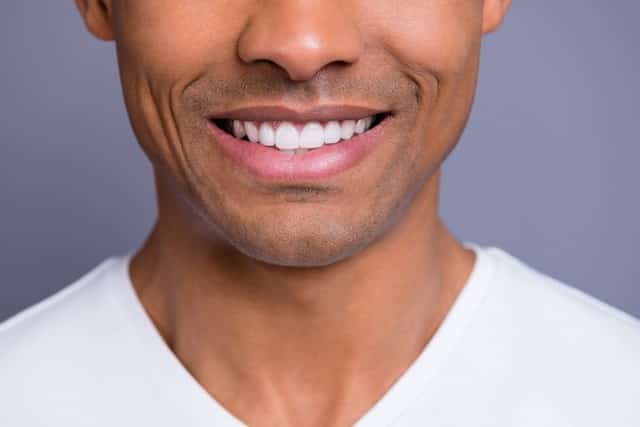 Sometimes people can discount the value in having certain dental procedures performed. Their thinking can be twofold. First, they're my teeth and tooth enamel is as hard as a rock, so what's going to happen? Second, who's looking at my smile anyway? What's a gap for a missing tooth or a snaggle tooth going to matter?
At Uptown Cosmetic & Implant Dentistry we beg to differ…seriously. Since everyone's thinking of love in February let's get into five ways having a great smile can improve your love life.
But first, let's get into those first of those two points discussed above. Yes, tooth enamel is hard: it's the hardest tissue in the entire human body. But it's not impenetrable. Taking your tooth enamel for granted is a great way to invite cavities and gum disease. If left unattended, the bacteria in the plaque that is on our teeth at all times can secrete acids when they ingest sugars left from food particles. Those acids are the beginning of decay. When you brush, floss, and see us at Uptown every six months, you can keep plaque (and possible decay) in check. But if you're lackadaisical with your care and don't keep up with your professional exams and cleanings, then decay will have its way.
OK, on to the five ways a new smile can improve your love life. With reason number one, let's address that question of if anyone cares about the look of your smile.
Research shows people with great teeth are perceived as more successful, smarter, and better looking. Yes, this can seem shallow, but many studies have been performed where people with perfect teeth have been rated against people with less-than-perfect teeth. Despite the two candidates having the exact same skill set, people believe the person with the great smile to be more intelligent, successful, and they are typically more attracted to the person with the perfect teeth.
Having a great smile makes you more confident. We've all seen people who, when they talk or are eating tend to put the back of their hand in front of their mouth to hide their teeth from display. That's no way to go through life! When Dr. Velasco uses his cosmetic dentistry skills to beautify your smile, all you want to do is smile and show it off! A perfect smile gives you confidence in meetings, presentations, and, of course, in your love life!
Having a well-maintained, attended-to smile protects your overall oral health. Coming in to see Dr. Velasco and our team at Uptown every six months for your professional cleaning and exam isn't an arbitrary timeframe. Six months is about the time it takes plaque to harden into tartar and begin to push its way up under your gum line. At the six-month mark, it's easy for us to remove tartar with a dental pick. But if you leave it, that's the beginning of gum disease and a cascading downward spiral of your overall oral health.
A healthy smile keeps you healthy. If you're missing a few teeth, it's likely you're also missing eating many crunchy, hard to chew foods that are also quite important for your nutrition. Fruits, vegetables, and nuts are all much easier to keep in your diet if you have all of your teeth. That's where Dr. Velasco's All-on-4 Dental Implants can change everything. He can replace a full arch of teeth in just a day with these amazing implants. Your nutrition will thank you, and your new smile will keep your love life healthy, as well!
Spend some money now and you'll have more to spend on that date later. People put off procedures and treatments, such as replacing a missing tooth, to save a little money now. But skipping treatments and maintenance is a recipe for all sorts of expensive dental procedures down the road. You know what Ben Franklin said, "An ounce of prevention is worth a pound of cure." Spend money to keep your smile in tip top shape and you'll have lots more money to pamper your date/spouse/partner with down the road.
There you have it: five reasons your beautiful smile from Dr. Velasco and our team at Uptown Cosmetic & Implant Dentistry will not only look great but won't hurt with your love life either!
Is it time to show your smile some love? Call Uptown at 713-960-9623 to schedule your appointment.